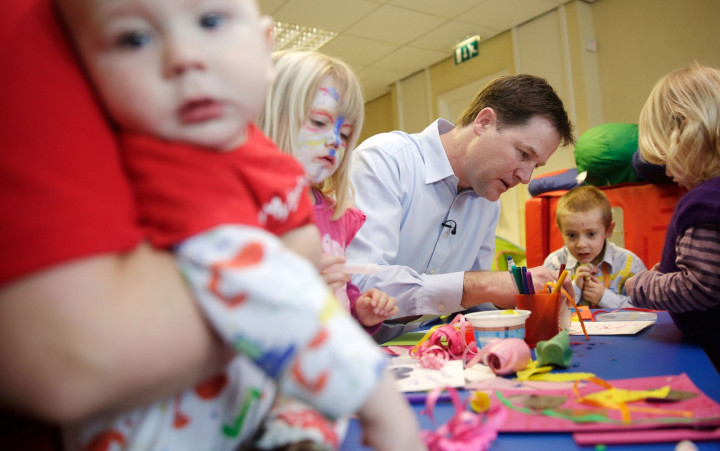 The battle over the "parent vote" has begun as the Liberal Democrats have pledged to give 15 hours of free childcare for all two year olds every week if the party gains power after the 2015 General Election next May.
The promise comes after the Coalition Government extended free childcare, with all three and four year olds and two year olds from the most hard pressed homes now eligible for the equivalent of 15 free hours a week.
But the party's pre-manifesto commitment, which would be paid for in part by scrapping the Conservative Party's plans to introduce a tax break for some married couples, comes at a high price.
The Liberal Democrats said the proposal would cost £800m (€1bn, $1.3bn) if it is enacted by 2020.
"Helping families with the cost of childcare is part of the Liberal Democrats' plan to build a stronger economy and a fairer society where there is opportunity for everyone to get on in life," said Jo Swinson MP, the Liberal Democrats' business minister.
"Extending free early years education to all two year olds will benefit children and reduce childcare costs for working parents."
'You cannot trust Clegg'
The news comes after the Labour Party announced its pledge to offer 25 hours of free childcare to working parents of three and four-year-olds if it gained power.
Lucy Powell MP, the shadow minister for childcare and children, said: "There's no point in the Liberal Democrats making more promises when people remember only too well the promises Clegg and his party have already broken.
"Voters know they cannot trust Clegg and the Liberal Democrats.
"When it comes to family policy, the Lib Democrats record is trebling tuition fees, 628 fewer Sure Start children's centres and, by 2015, taking away up to £15bn in support for children and families."