UK Job Market 'Unstable' After Self-Employment Surge, Warns TUC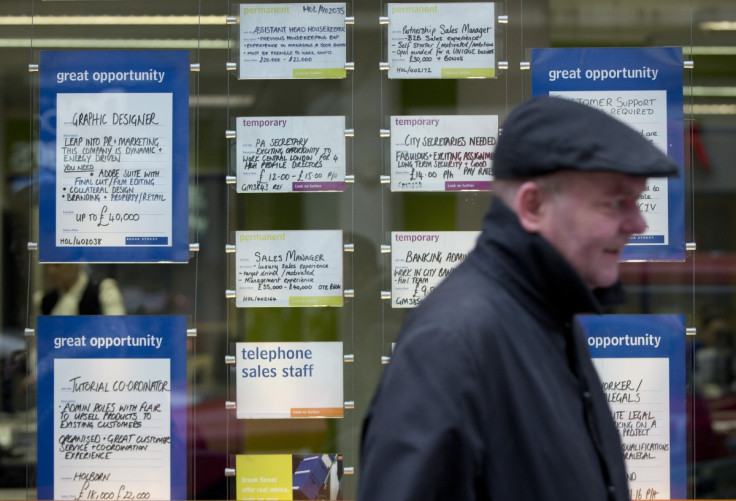 The surge in Britons finding jobs is actually down to a big boost in self-employment, with pensioners, part-time workers and "odd-jobbers" becoming the fastest growing groups of the UK's new freelance workforce.
According to analysis from the Trades Union Congress (TUC), self-employment has accounted for 44% of all employment growth since May 2010.
This is despite the fact that self-employment is a relatively small part of the UK jobs market.
"While some choose to be self-employed, many people are forced into it because there is no alternative work," said Frances O'Grady, general secretary of the TUC.
"The lack of a stable income and poor job security often associated with self-employment makes it hard for people to pay their bills, arrange childcare, plan holidays or even buy or rent a home."
The research also revealed that workers aged 50 plus account for half the increase in self-employment, with self-employed workers aged 65 and over the fastest growing group in the labour market (increasing by 29% since the end of 2010).
The TUC said more than 40% of all the self-employed jobs created since mid-2010 are also part-time.
The analysis showed that the number of people starting their own businesses has fallen in recent years, in spite of rising self-employment.
The biggest growth areas of self-employment since mid-2010 have been people working for themselves (up 232,000), freelancing (up 69,000) or sub-contracting (up 67,000).
The study found that the number of self-employed people who either run a business, or are a partner or sole director in one (positions usually associated with entrepreneurship) has actually fallen by 52,000.
The figures come after the Office for National Statistics (ONS) revealed that UK employment hit a record high of more than 30 million in the three months to January 2014.
But the country's youth unemployment rate is still relatively high at 19.8%, with more than 900,000 young people out of work.
TUC's data support earlier figures from freelance membership group PCG which claims that the UK economy continues to strengthen as a majority of freelance workers expect business to boom in 2014.
According to research from PCG on 7 April, seven in ten (70%) of freelancers expect the economy to improve over the next year.
PCG said the figures reflect a surge in optimism among independent professionals over the future direction of the UK economy.
© Copyright IBTimes 2023. All rights reserved.