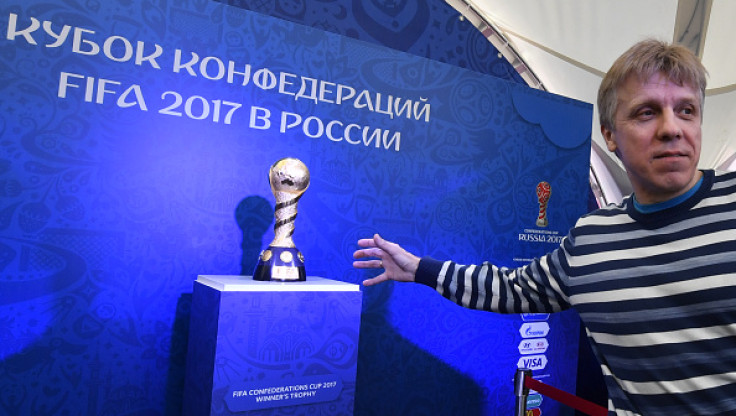 The 2017 Fifa Confederations Cup is the 10th edition of the tournament organised by the sport's governing body, Fifa, in Russia. Eight teams will fight against each other to win the prestigious tournament from 17 June to 2 July.
Russia became the first team to qualify for the tournament as they host the 2018 Fifa World Cup. Germany, who won the World Cup in 2014, followed the hosts to be the second team to seal their berth in the tournament.
The remaining six teams are the winners of their respective continental championship. The other six teams are Australia (2015 AFC Asian Cup winners), Chile (2015 Copa America winners), Mexico (2015 CONCACAF Cup winners), New Zealand (2016 OFC Nations CUp winners). Portugal (Euro 2016 winners) and Cameroon (2017 African Cup of Nations winners).
Eight teams will be divided into two groups, Group A and Group B. Each group will consist of four teams and the top two teams qualify for the semi-final. The two groups are given below.
Group A
Russia
New Zealand
Portugal
Mexico
Group B
Cameroon
Chile
Germany
Australia
Where to watch live
ITV and ITV4 will provide live coverage of the 2017 Fifa Confederations Cup in the United Kingdom. The ITV Sport website will also provide coverage for desktop users and mobile users.
Schedule
Match 1: Russia v New Zealand
Date and Time: 17 June, 4pm BST
Venue: Saint Petersburg Stadium, Saint Petersburg
Match 2: Portugal v Mexico
Date and Time: 18 June, 4pm BST
Venue: Kazan Arena, Kazan
Match 3: Cameroon v Chile
Date and Time: 18 June, 7pm BST
Venue: Spartak Stadium, Moscow
Match 4: Australia v Germany
Date and Time: 19 June, 4pm BST
Venue: Fisht Stadium, Sochi
Match 5: Russia v Portugal
Date and Time: 21 June, 4pm BST
Venue: Spartak Stadium, Moscow
Match 6: Mexico v New Zealand
Date and Time: 21 June, 7pm BST
Venue: Spartak Stadium, Moscow
Match 7: Cameroon v Australia
Date and Time: 22 June, 4pm BST
Venue: Spartak Stadium, Moscow
Match 8: Germany v Chile
Date and Time: 22 June, 7pm BST
Venue: Spartak Stadium, Moscow
Match 9: Mexico v Russia
Date and Time: 24 June, 4pm BST
Venue: Spartak Stadium, Moscow
Match 10: New Zealand v Portugal
Date and Time: 24 June, 7pm BST
Venue: Spartak Stadium, Moscow
Match 11: Germany v Cameroon
Date and Time: 25 June, 4pm BST
Venue: Spartak Stadium, Moscow
Match 12: Chile v Australia
Date and Time: 25 June, 7pm BST
Venue: Spartak Stadium, Moscow