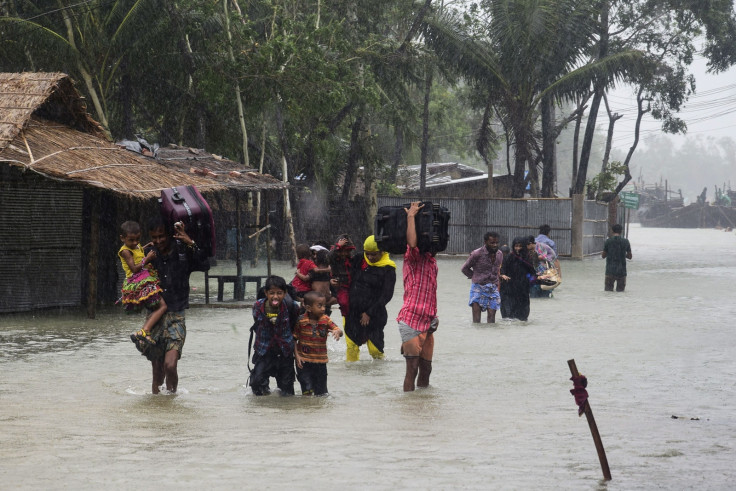 At least 23 people have been killed when Cyclone Roanu lashed southern Bangladesh on 21 May. Around 500,000 were forced to flee their homes as the storm's heavy rains led to floods and landslides in numerous areas.
Hundreds of houses and businesses were submerged and trees uprooted in southern districts, while many villages in low lying areas were inundated, officials said. Although the storm weakened by the evening, rains continued to batter the area.
According to the Bangladesh Meteorological Department, the cyclone formed in south Sri Lanka, travelled through Bay of Bengal and made landfall in Chittagong district at 6am GMT. Authorities said that at least 500,000 people were moved into 3,500 temporary relief centres.
Disaster Management and Relief Minister Mofazzal Hossain Chowdhury Maya was quoted as saying: "We've shifted most of the people who are vulnerable."
Police said that at least 23 people are known to have died due to the cyclone. Eleven were killed in the Chittagong district, where Roanu first made landfall.
Shah Alam, a police inspector in Chittagong was quoted as saying, "Seven people drowned at Banshkhali after the storm surge breached dykes at two places, inundating coastal villages."
"Some 250,000 people were marooned on the Chittagong coast as sea water ripped through dykes, flooding dozens of villages," Mesbah district government administrator said.
Among the dead were a mother and daughter, who drowned on the Hatiya Island as sea water surged and flooded their village. Another three people died reportedly on Kutubdia Island.
Officials said conditions improved by Saturday evening, and people were able to return to their homes.
"Up to 20 villages were flooded (in the area),the flood water is now receding," Anisul Haq, Athiya police chief said.
Before the cyclone made landfall, winds and landslides hit the coastal areas early on Saturday morning and wreaked havoc and destruction. In Chittagong, a mother and her young child were killed in a landslide which also buried their hillside home.
Reaz Ahmed, head of the Department of Disaster Management said, "So far we have moved more than 500,000 people to cyclone shelters." He said that the full picture will emerge on 22 May, when relief authorities can go in and inspect the remote coastal areas.
This cyclone comes in the wake of thunder showers and lightning earlier this month in Bangladesh, which killed 56 people.