23 pilot whales killed in the Faroe Islands during annual festival, sea turns red
More than 530 whales have been slaughtered this year in Faroe Islands.
The annual whale hunting festival held in Faroe Island saw the killing of23 pilot whales for their meat and blubber. Charity Sea Shepherd UK documented these killings in the Hvalvik Bay on Friday.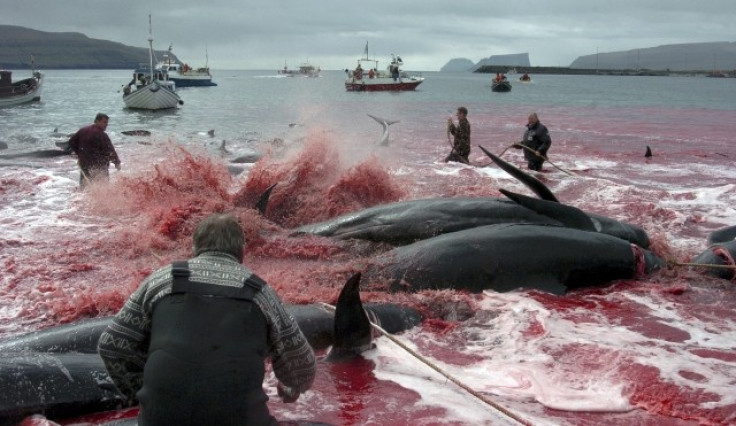 The tradition is called 'grind' turned the sea red with blood. This was the 10th such whale hunt in Faroe this year, with 536 pilot whales slaughtered in total. The whale meat is supplied to the remote Atlantic population. The Faroes have justified the tradition saying it is sustainable and regulated by law.
The mammals were brought near the shore and then killed inhumanely. According to reports, an unborn calf was cut out from mother's womb. A small foetus was also removed.
The Sea Shepherd UK crew filmed the entire event. The Sun quoted the charity spokesman saying, "Grind participants ran cheering into the pod to start attaching ropes and pulling individuals out to begin slaughtering." The tradition appears to have turned into a tourist attraction as passerbys stop on their way to snap photos of the event.
© Copyright IBTimes 2023. All rights reserved.