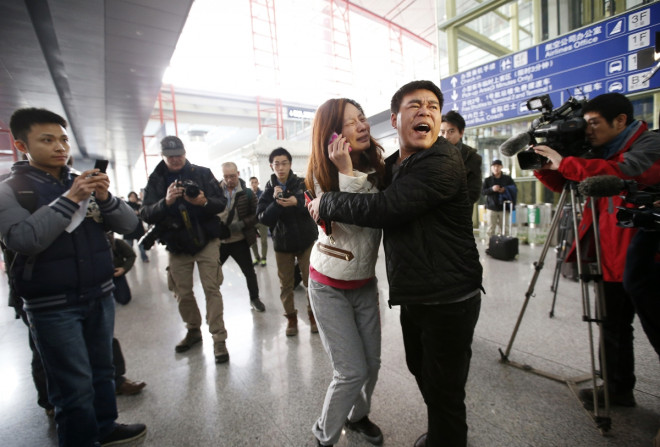 The relatives of the 239 passengers and crew aboard a Malaysian Airlines Boeing 777 which vanished from radar this morning are bracing themselves for bad news as reports emerge from the Vietnamese navy that the plane may have crashed into the South China Sea.
Flight MH370 left Malaysia's capital Kuala Lumpur at 12:41am local time. The 777-200 was due to land in Beijing at 06:30 local time but disappeared at 2:40 local time on Saturday (18:40 Friday GMT) without sending a distress call – as occurred in the case of an Air France flight 447 crash on 1 June 2009, killing all 228 on board.
Vietnamese state media reported a navy spokesperson as saying the plane had crashed at around 2:40am near the island of Tho Chu off the country's south coast, though so far there is no independent verification. In a statement on Facebook Malaysia Airlines confirmed the plane was missing:
"We deeply regret that we have lost all contacts with flight MH370 which departed Kuala Lumpur at 12.41 am earlier this morning bound for Beijing. The aircraft was scheduled to land at Beijing International Airport at 6.30am local Beijing time. Subang Air Traffic Control reported that it lost contact at 2.40am (local Malaysia time) today."
The plane, piloted by 53-year-old Captain Zaharie Ahmad Shah from Malaysia, carried 12 crew plus 227 passengers from 14 countries:
China (153);
Malaysia (38);
Indonesia (12);
Australia (7);
USA (4);
France (3);
New Zealand (2);
Ukraine (2);
Canada (2);
Russia (1);
Italy (1);
Taiwan (1);
Netherlands (1):
Austria (1).
Two babies are among the missing. Ships from Malaysia, China and Vietnam are searching the area. In Beijing relatives and friends are said to be becoming increasingly desperate for information.
One woman sobbed as she was asked to board a shuttle bus: "They want us to go to the hotel. It cannot be good."
If confirmed this would be the second fatal crash involving a 777 in under a year after an unblemished record since the plane entered service in 1995. Last year a 777 crashed in San Francisco killing three Chinese schoolgirls.
Boeing said in a message on Twitter: