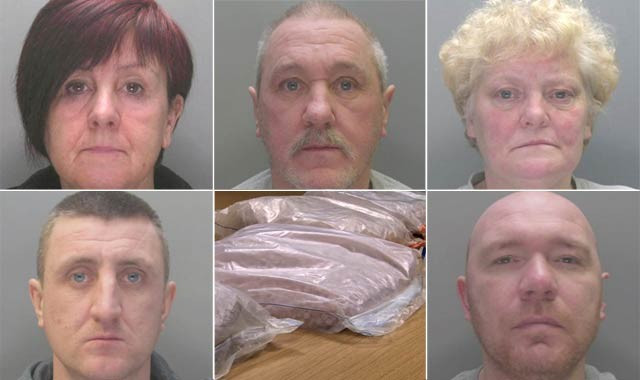 A family of notorious drug dealers responsible for peddling the streets of Liverpool with heroin and cocaine have been jailed for a total of 82 years.
The Whitney family and their associates, who made thousands of pounds from their around the clock drug dealing business were finally busted and brought to justice after a successful police operation.
During the trial the court heard how the family had ran their 24-hour 'drugs cash-and-carry business' supplying desperate addicts across the city for two years.
Police said the gang were responsible for 'creating a massive crime wave and bringing misery to some of society's most vulnerable people' as a result.
The gang had used a number of safe houses in the Anfield area and often used unregistered mobile numbers and untraceable vehicles to sell wraps of the class A drugs to desperate users, often from a phone box on the street.
A stolen SA80 assault rifle with 1,200 rounds of ammunition was also found in one gang member's car when they were arrested.
Undercover police officers first began their investigations on the Whitney clan when the family aroused suspicions after they started driving expensive cars and having loads of visitors without any legitimate apart from incapacity benefits.
The Merseyside Police eventually busted the family following a undercover heist which saw officers pose as addicts to make 'test purchases' whilst filming the footage.
The court heard that as the net closed in on the gang, 29-year-old Emma Mackenzie tried to hide cocaine in her baby's nappy bag during a raid at her home in a desperate attempt not to be caught.
Another member of the clan Matthew Mayor, 37 even hurled one kilo packets of heroine worth £47,000 in total out the window of his Mercedes onto the carriageway in a frantic chase with police in December 2010.
When police arrested the family 'matriarch and banker' Grandmother Carol Whitney they found more than 520 wraps of heroin hanging on a bush in her garden.
She had claimed £5,000 benefits despite earning £114,000 from the drugs business every year.
Thirteen people involved in one of the country's biggest drug operations-seven from the Whitney family-were jailed at Liverpool crown court yesterday after they were found guilty of conspiracy to supply class A drugs.
Detective Chief Superintendent Tony Doherty who led the Merseyside Police investigation said yesterday : "These people were living on the backs of the most vulnerable in our society. They dealt with drugs near to schools. They exploited everything.
"They have nice holiday homes, they go on exotic holidays...all on the back of drugs.
"My description of them would be 'parasites,'" he added.