When talking about a new album, today's "now, now, now" generation throw the word "classic" around like a fresh chew toy on a dog's birthday. "Instant classics" are crowned the very second they leak, yet a week later they are nowhere to be found either on the charts or in said proclaimer's iTunes library. Letting an album marinate is not something the new wave of music listeners have the patience to do. And with the dictionary definition of the word classic being: "something judged over a period of time to be of the highest quality and outstanding of its kind," it's fair to say that none of Future's mixtapes released over the past 12 months fit those criteria.
One project that does have the right to be referred to as a classic, though, is 2Pac's All Eyez on Me. Released 20 years ago on Death Row Records, the double-disc album was the result of a rigorous two-week recording schedule. That schedule began not long after 2Pac was bailed out of prison by Death Row co-owner Suge Knight and Jimmy Iovine on a $1.4m (£970,000) bond after being convicted of sexual abuse.
Amerikaz Most Wanted
Having gone through a series of trials and tribulations that included incarceration, a shooting and various legal cases, the gloves were off with All Eyez on Me. Gone were the socially conscious tracks that were evident on early albums 2Pacalypse Now and Strictly For My NIGGAZ..., and in their place were fiery audio blasts aimed at his oppressors. While he hadn't quite got to the point of calling out names yet, All Eyez on Me was certainly the catalyst for future lyrical spats – including one with a certain Notorious B.I.G...
"To me, All Eyez On Me is like the phoenix rising from the ashes," says rapper Mac Mall, a close friend of 2Pac whose Ghetto Theme video was directed by the legendary rapper. "He had the world against him and when he got out of prison he went straight to the top. So to me there's a lot of hope in that album, hope for a brighter future."
2Pac was more than just a beacon of hope. He oozed charisma and charm – coupled with controversy and contradiction – in a way unrivalled by any other rapper at the time or since. Men wanted to be him, women wanted to be with him. His bad boy persona began to attract pop stars – Madonna being one of them – and their respective audiences. Bringing his Thug Life (The Hate U Give Little Infants F*cks Everybody) mantra to life, All Eyez on Me painted a picture of someone without a thing to lose who was living life to the fullest.
With help from an arsenal of artists who wouldn't normally be called upon to be a part of such a high-profile release, All Eyez on Me was one of the most organic-sounding releases of its day thanks in part to the long list of collaborators. Sounding more like a gangsta party than a manufactured project casting a list of whose who, 2Pac chose to call upon close friends and artists he was a fan of rather than showcase the transient stars of the moment.
"He was all heart," recalls Mac Mall. "He touched so many people. It didn't matter if you were famous or not. He'd help anyone, even if he wasn't going to get anything back. That's the type of dude he was, he always looked out for you and always wanted to show you what you could achieve."
Looking to put rap in a stranglehold as soon as the ink on his Death Row contract had dried – which according to urban legend was drafted on toilet paper as it was the only thing to hand when Suge Knight visited him in prison – All Eyez on Me hit stores exactly one year to the day after 2pac entered Clinton Correctional Facility in New York. Said to have been recorded in just two weeks, its quality gives no hint as to its rushed schedule.
Outlawz territory
"He was recording every day. That's why he made it a double CD," explains Young Noble, a member of 2Pac's group The Outlawz. "He was making hit records every day. Three, four, five songs a day and every one of them a smash. He was a master of his craft and was extremely passionate about what he was doing and what he was trying to accomplish."
Formally known as Dramacydal, The Outlawz officially formed during the recording of All Eyez on Me. "Pac lead by example," Young Noble continues. "He was trying to teach us the game but really he was showing us the game because he lead by example. Pac taught us to never give up and to do everything with integrity from the heart and soul."
While some critics claim All Eyez on Me contains filler tracks that, if they were removed, the album could easily be shortened to a more-enjoyable single disc, you'll rarely hear those words from the mouth of a hip-hop fan. Deliving a plethora of emotions, All Eyez on Me has something for everyone and at no point seems that it's about to lose you due to a lack of consistency.
Containing everything from displays of lyrical excellence (Tradin War Stories, Got My Mind Made Up) and club smashes (California Love, How Do U Want It), to heartfelt street tales (I Ain't Mad At Cha, Life Goes On) and the usual predictions of his own death (Only God Can Judge Me), the average artist would have issues keeping the narrative flowing – this was back when artists were more concerned with making a cohesive body of work than just throwing a bunch of singles together – but not 2Pac.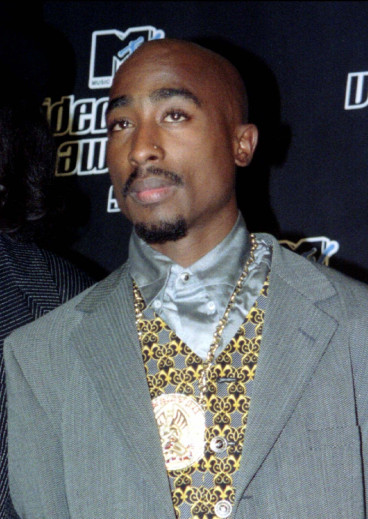 All Eyez on Me sees 2Pac take listeners on a journey, but none of his street tales would hit as hard without the groundbreaking backdrops provided by a select few producers. Using east coast sounds but making a west coast album, the likes of Dr. Dre, DJ Quik, Daz Dillinger, Johnny J, Rick Rock and Mike Mosley painted the perfect canvas for 2Pac to add his brushstrokes. Matching 2Pac's urgency with a selection of concrete-solid instrumentals, it's not just the featured artists that offer an organic feel to the album – the chemistry between 2Pac and the All Eyez on Me producers is a match made in hip-hop heaven.
Another producer to add his signature sound to All Eyez on Me was QD3. Son of musical icon Quincy Jones, he was previously known for his work with NWA and Ice Cube (Ghetto Bird). Working with 2Pac for the first time on All Eyez on Me, the producer and documentarian went on to produce over 30 tracks for 2Pac.
"I can't believe it's been 20 years. I remember it as if it was yesterday," he recalls when discussing the making of Heaven Ain't Hard 2 Find, which features on the album's second disc. "I remember it was a rainy day and I was a little late to the session because of it. I had ordered some equipment that hadn't arrived at the studio so the first thing I saw was Pac blowing up on the engineer. It scared him to death, but once the equipment was sorted out we recorded the song in 10 minutes."
Earning himself the opportunity to work with 2Pac after discovering his sister, Kidada Jones, was engaged to the rapper, QD3 slid a beat tape under the door to 2Pac's hotel room after his sister gave him the address of where her fiancé was staying at the time. "He called me the next day saying: 'Yo! That's exactly what I was looking for.' He then told me he was going to take a song off the album so I could get on there. He didn't have to do that, but that was Pac. He was all about giving opportunities."
Going into detail about 2Pac's unorthodox creative process, QD3 continues: "Pac would sit there, look you in the eye and talk. He would tell you a story while at the same time writing a song about something else. That's how incredible he was. So he would sit there, roll joints, smoke weed, talk and his hand was always moving on the paper. So, in 10-15 minutes he finished writing Heaven Ain't Hard 2 Find while he was doing other things. That's how much of a creative genius he was. But it all came from preparation.
"So then he got in the booth and laid it down all in one take, and then he did one more take laying it all down, again in one take, while adding the back up vocals. Then he told Val Young – she did the backing vocals – what the song was about and kinda how he wanted it to go - he was directing the whole thing - and she went in there and laid the whole thing down in five minutes. I knew right then that we had one. I was pretty proud that we nailed it the first time working together."
All Eyez on Me taught its listeners about the many hazards found in the game of life. 2Pac was a teacher, both on record and on the streets. "He taught me to be true to yourself," says Mac Mall. "He taught me to never stop fighting. He told me that I should always give back and just be real. I miss him. I miss him everyday. That was my big brother."
Street teacher
QD3 says 2Pac taught him to believe in himself: "To him everything was possible. 'If you wanna do it, I'll help you. Let's make this work,' he always used to say. He gave everyone a glimmer of hope. 'Whatever you have on your mind you can get it done at the highest level if you believe in it.' He made you feel like you could do anything." Laughing, he adds: "That was always the danger of hanging with Pac – you felt like you could do anything."
Regarded as the second album in the classic trilogy released by 2Pac – Me Against The World being the first while The Don Killuminati: The 7 Day Theory is the third – everyone has their own favourite moment on All Eyez on Me. "Oh that's easy," says QD3. "It's Life Goes On. That's the kind of music where you can listen to the track and sing every note." Mac Mall feels the best moment on the album is in fact the title track. "It's the perfect song," he passionately states. "Y'all tried to shoot him up. Y'all tried to lock him up. Y'all tried to put dirt on his name. But look at him, he's still shining! He still has all eyes on him. That's strength."
Timeless and as relevant today as it was 20 years ago, there's absolutely no question that All Eyez on Me is one of rap's most seminal albums. Is it 2Pac's best LP? Maybe. Maybe not. That just goes to show how exceptional he was as an artist. Describing All Eyez on Me in a few words, Young Noble simply says, "It's the most realest, truest, purest hip-hop you will ever find, hands down."