Thirty Million People Living Like Slaves Worldwide - Including Thousands in the UK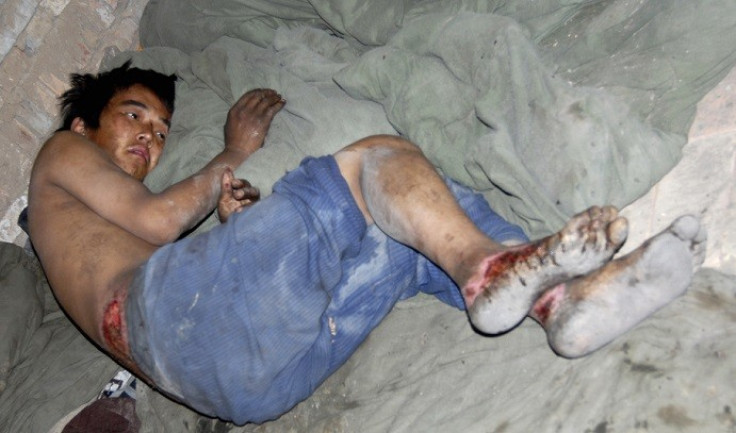 Nearly 30 million people are living as slaves around the world through human trafficking, forced labour and exploitation of children, according to a report.
The Global Slavery Index 2013, compiled by anti-slavery charity Walk Free Foundation, estimates that India has the highest number of people living in slave-like conditions at nearly 14 million - almost half the overal figure.
The report also says the west African country of Mauritania has the highest proportion of slaves in its country, with an estimated 150,000 of its 3.8 million people classed as enslaved.
The index describes Mauritania as a nation with "deeply entrenched hereditary slavery", while "people in slavery may be bought and sold, rented out and given away as gifts".
The Global Slavery Index ranks 162 countries in order based on the number of people in slavery conditions. The report describes "modern slavery" as acts including slavery, slavery-like practices - such as debt bondage, forced marriage and the sale or exploitation of children - as well as human trafficking and forced labour.
The index says that the top 10 countries with the highest amount of slaves account for 76% of the total estimate of 29.8 million people worldwide.
After India, China ranks second with nearly three million of its population in slave-like conditions, followed by Pakistan (2.1 million) and Nigeria (700,000).
Haiti came in second place in the countries with the highest proportion of slaves, with around 200,000 from a population of 10 million. In Haiti, about one in 10 children are trapped in an exploitative system of child labour, the report said.
Pakistan ranked third with more than 1.8 million in bonded labour, followed by India, where child labour and forced marriages are common.
In Europe, Russia has the highest estimated number of people in modern slavery at 500,000, with Moldova having the highest proportion. The report estimates nearly one in every 100 people in the eastern European country are trapped in modern slavery.
'Slavery exists in every country'
Walk Free Foundation was founded last year by Australian mining magnate Andrew Forrest. Its index was endorsed by US Secretary Hillary Clinton, former Prime Minister Tony Blair and Microsoft's co-founder Bill Gates.
Clinton said although the index wasn't perfect, it provided a starting point.
"I urge leaders around the world to view this index as a call to action, and to stay focused on the work of responding to this crime," she said.
Coming in last place in the index in terms of proportion were Iceland, Ireland and Britain. However, the report states that these countries are still not entirely slavery-free.
Up to 4,400 people are estimated to be enslaved in the UK, with people from Asia, Africa and eastern Europe found to be forced into prostitution or take on low or unpaid construction or agriculture work.
Kevin Bales, lead researcher and professor at the Wilberforce Institute for the Study of Slavery and Emancipation at Hull University, told Reuters: "Hopefully this report will be a wake-up call for rich countries as well."
Walk Free Foundation chief executive Nick Grono added: "Modern slavery is an issue that's getting an awful lot of attention. It's illegal everywhere and it's absolutely abhorrent.
"I think once we start pointing out the scale of the problem on a country by country basis, policy makers will react.
"Slavery exists in every country in the world."
© Copyright IBTimes 2023. All rights reserved.