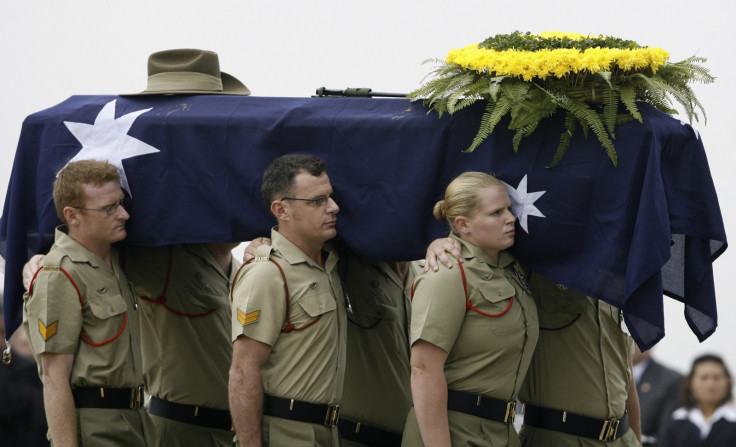 After over four decades, Australia has received the remains of its soldiers from Malaysia, many of whom were killed during the Vietnam War. Australian officials say it is the biggest single repatriation in the country's history.
According to AP, a repatriation ceremony for the 32 Australian servicemen was held at Subang military air base in Malaysia, where each coffin was draped in the Australian flag.
They were carried aboard two Royal Australian Air Force military aircraft, making their journey to their final resting place. The remains were buried in Malaysia's Terendak Military Cemetery for decades.
The remains of the first Australian who died in the Vietnam War is also being returned to Sydney from Singapore's Kraji Cemetery.
The families of the 33 servicemen and civilians will receive the remains in western Sydney for a formal military repatriation ceremony in the nation on Thursday (2 June), followed by a private memorial service in their respective home states.
Many veteran war heroes who served with those killed are expected to join the ceremony. The public will have access to view the funeral procession and pay their respects.
In 2015, the Australian government announced that it would pay for the repatriation of 36 Australian soldiers and dependents from Malaysia and Singapore, with the families of 33 accepting the offer.
"As 2015 marks 50 years since the arrival of combat troops and the escalation of Australian involvement in Vietnam, it is right and proper that we honour their service with this gesture," then Australian prime inister Tony Abbott told Parliament in May 2015.
Under Australia's policy before January 1966, their soldiers, who were killed while serving during the 19-year-long Vietnam War, were asked to be buried in foreign counties in the nearest Commonwealth war cemetery. Abott's decision came as the families of the deceased soldiers had no access to the cemetery since it was in the middle of a military base in Malaysia.
Australia had deployed more than 60,000 troops in Vietnam between 1962 and 1973, of whom 521 were killed in the battlefield.