A beautifully preserved Egyptian tomb dating from 1200 BCE, in the Ramesside period, has been discovered in a necropolis in Luxor on the banks of the Nile in Egypt. The tomb was built for the royal scribe, a man named Khonsu.
The tomb is arranged in a T-shape, measuring about 4.6m in an east-west hall and 5.5m in the north-south hall.
On the north wall, the tomb is decorated with images of a figure in a boat worshipped by four baboons. The figure could be the 'finisher of the world' Atum or the sun god Ra.
At the southern end of the east wall, the scribe Khonsu and his wife are shown worshipping Osiris, the god of the afterlife, and Isis, the goddess of health and wisdom. Two ram-headed gods stand behind the figures of the humans, and are thought to represent the water deity Khnum.
Osiris and Isis make another appearance on the east wall, depicted in a seated position. Opposite, on the west wall, most of the figures have been obliterated. On the whole, the paintings on the ceilings of the tomb have been better preserved than those on the walls.
The tomb was discovered during an examination ofthe forecourt of Userhat, who had been a high-level official under Amenhotep III (pharaoh in the 14th Century BCE and the grandfather of Tutankhamun). A hole was found revealing another hall leading to the tomb of Khonsu.
"During the cleaning of the eastern part of the front yard of the tomb of Userhat, a big carved hole in the northern wall was found. After crawling through the hole, it was found that it leads to the southern wall of the hall of the newly discovered tomb of Khonso," Egyptologist Jiro Konto of Waseda University, who led the excavation, told Luxor Times.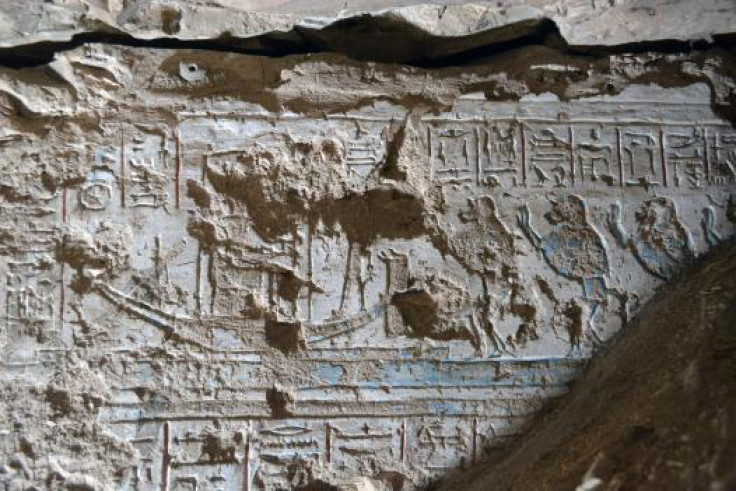 By analysis of the stylistic details, Kondo estimated the tomb to be about 3,200 years old. The frieze pattern by the ceiling outside the entrance of the tomb is in the khekher style typical of the Ramesside period, the researchers say.
The inner chamber of the tomb is blocked with a pile of rocks, but the researchers plan to clear these to explore the inner compartment of the tomb.
The discovery raises Egyptologists' hopes of further finds of tombs of named occupants in the Luxor region.