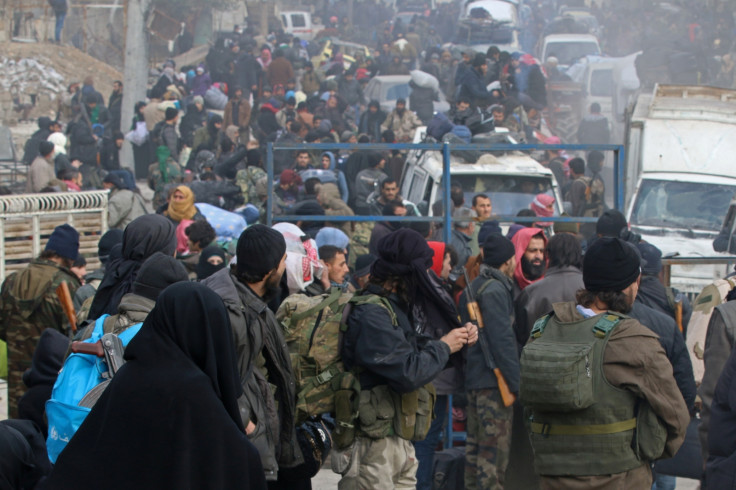 Syrian government convoys carrying as many as 3,500 evacuees from eastern Aleppo have left the beleaguered districts just hours before the UN will vote on sending international observers to the city amid reports of human rights abuses.
The restarting of the evacuation marks the latest chapter in days-long, stop-start negotiations to remove civilians and defeated rebel fighters from Aleppo.
Yesterday (December 18) there were fears the evacuation had completely broken down after rebels with the Ahrar al-Sham, linked to al-Qaeda, attacked buses carrying evacuees from the besieged Shia towns of al-Foua and Kefraya.
The buses were attacked and torched by armed men, who shouted "God is greatest" and brandished their weapons in front of the burning vehicles, according to Reuters.
Since the attack, Syrian state television has confirmed 10 buses had brought refugees from the towns to government-held areas of Aleppo. The UN and the UK-based Syrian Observatory for Human Rights said 65 buses carrying the 3,500 evacuees from eastern Aleppo left at midnight local time (BST 2:00) on Sunday (18/19 December).
"First limited evacuations, finally, tonight from east Aleppo and Foua and Kefraya. Many thousands more are waiting to be evacuated soon," Jan Egeland, the chair ofthe UN aid task force in Syria, tweeted.
The UN's Security Council is expected to vote to send independent observers to Aleppo amid the fraught evacuation of Aleppo. In the final days of the siege on rebel held areas, the UN also published reports of summary executions of civilians by pro-Assad troops adding children were believed to be among those killed.
The draft resolution was the result of a compromise between Russia and France, and the United States said it was expected to pass unanimously.
However immediately following the torching of the buses by Ahrar al-Sham, Russia had said it would vote to veto the resolution.
We cannot support it," Churkin said. "We cannot allow it to pass because this is a disaster," he added referring to the attack on the buses.
Inside eastern Aleppo families remain, waiting to be removed, in dire conditions. "Everyone is waiting until they are evacuated. They just want to escape," said Salah al Attar, a former teacher with his five children, wife and mother, told Reuters news agency.