Four Iranian vessels "harassed" a US warship near the Persian Gulf by "conducting a high-speed intercept" despite repeated warnings, a US defence official said. The incident took place on Tuesday (23 August) near the Strait of Hormuz, located between the Gulf of Oman and the Persian Gulf.
It remains unclear if the act, which the official termed "unsafe and unprofessional", was carried out independently by Iranian commanders or under the direction of senior officials in Tehran.
Two of the ships from the Iranian Islamic Revolutionary Guard Corps reportedly came within 300 yards of the USS Nitze, a guided-missile destroyer. The USS Nitze was reportedly transiting in the waters in the Gulf with another warship, the USS Mason.
The Iranian vessels harassed the US warship despite the latter trying to establish radio communication with them, Commander William Urban, a spokesman for the US Fifth Fleet, was quoted by The Wall Street Journal (WSJ) as saying. He said the USS Nitze contacted the Iranian vessels at least 12 times, but received no response. The US ship also fired 10 flares in the direction of the approaching vessels to warn them against a possible collision.
"The Iranian high rate of closure... created a dangerous, harassing situation that could have led to further escalation, including additional defensive measures by Nitze," the official reportedly said. The USS Nitze had to finally change its course to get away from the Iranian vessels.
The incident could have led to a diplomatic protest from Washington, but the two countries do not have diplomatic ties. This was reportedly not the first occasion of harassment of a US vessel by Iran.
In January, the Islamic Republic had detained 10 US sailors on board two patrol craft when they entered Iranian territorial waters. They were released the next day after around 15 hours of detention, Reuters reported.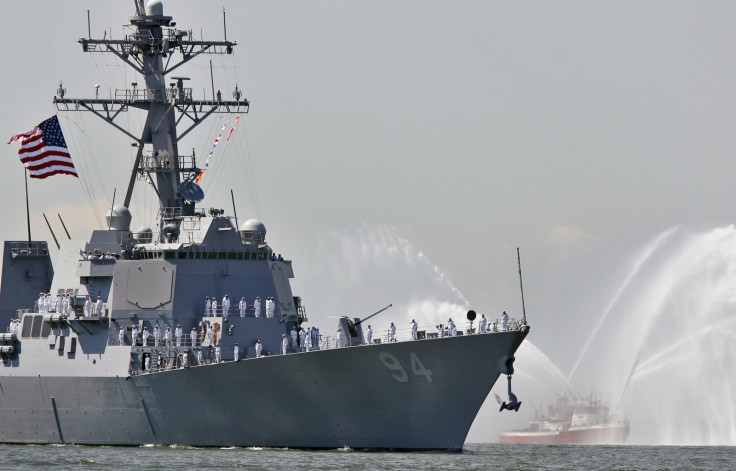 Washington is wary of Iran's ballistic missile programme, despite the country signing an international nuclear accord with six other nations, including the US. It is also concerned about Iran's support for Syrian President Bashar al-Assad in the bloody Syrian civil war.
On the other hand, the Iranian Praetorian Guard is suspicious of US military activity near its borders and thus, keeps a close watch on US movements in the Gulf, the news agency added.