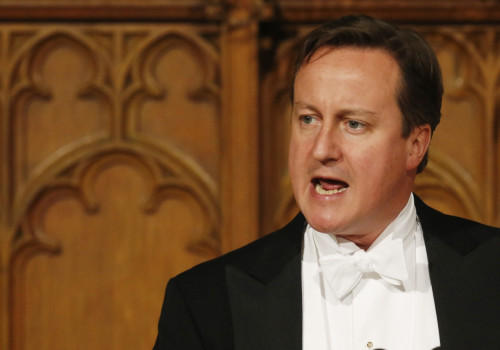 Members of an elite dining club with access to David Cameron have donated £43m to the Conservative party over two years, it has been revealed.
The Leaders Group consists of donors who have each given £50,000 a year to the Conservatives and in return, are invited to private dinners and parties with David Cameron and other cabinet ministers. It was set up in 2003 and is now a key part of Tory fundraising.
The identity of members had been kept secret but the financial details were released after Cameron refused to disclose how many guests he had hosted at his grace-and-favour mansion, Chequers.
In 2012, the prime minister was forced to admit he had hosted 15 multi-millionaire Conservative guests at the vast property and at Downing Street.
The secrecy surrounding the private dinners have raised suspicions over donors influencing policy. Ministers who have attended the Leaders Group events in the past include George Osborne, William Hague and Theresa May.
Foreign nationals are ordinarily banned from donating to British political parties, yet Alexander Temerko, a Russian businessman who runs Offshore Group Newcastle, attended two dinners and has given £200,000 to the Conservatives over the last two years.
Mr Temerko's donations were cleared by the electoral commission. In addition, Temerko was granted to stay in the UK after an attempt to extradite him on fraud charges was deemed politically motivated.
Conservative sources insist that the party is still transparent and criticise Ed Miliband for failing to keep his pledge to publish regular lists of meetings with major donors.
Labour MP Michael Dugher commented: "It's no wonder the Prime Minister stands up for the wrong people when he is selling access to a privileged few."