Turkish military have killed 44 Islamic State (Isis) militants and wounded over 100 as part of the ongoing offensive in the northern Syrian town of al-Bab, the armed forces said in a statement released on Wednesday (28 December).
A total of 117 Isis members were wounded in the operation, the military said and added that seven rebels were also wounded in the clashes. The military also said it targeted 154 enemy positions, destroying their shelters, defense positions and headquarters on the 127<sup>th day of Operation Euphrates Shield aimed at liberating al-Bab of IS (Daesh) and Kurdish militants.
Syrian Free Army, backed by Turkish troops, have reportedly laid siege to al-Bab for weeks under the operation launched in late August by Turkey. So far, the Turkish explosive ordnance disposal teams have neutralised 2392 handmade explosives in areas cleared of Isis, the Daily Sabah reported.
Al-Bab, a town located 30km from the Turkish border, used to be home to around 64,000 people, mainly Sunni Arabs, before the start of the Syrian civil war in 2011, the pro-government Turkish daily reported, adding that the rebels and Turkish troops are pushing southward to eliminate Isis from al-Bab.
The troops are forming a 5,000sqkm terror-free zone involving the towns of al-Bab, al-Rai, Azaz, Jarablus and Manbij near Syria-Turkey border, the paper noted.
Bashar al-Assad led Syrian government troops are running a separate offensive against Isis as well as the Syrian rebel forces who want to topple the government. The US-led coalition is assisting the rebel groups to root out Isis militants from the region.
However, Turkish President Recep Tayyip Erdoğan has accused the US-led coalition of supporting terrorist groups, including the Isis and Kurdish forces. The Kurdish forces have waged a war against the Turkish administration with the aim of forming an independent Kurdistan.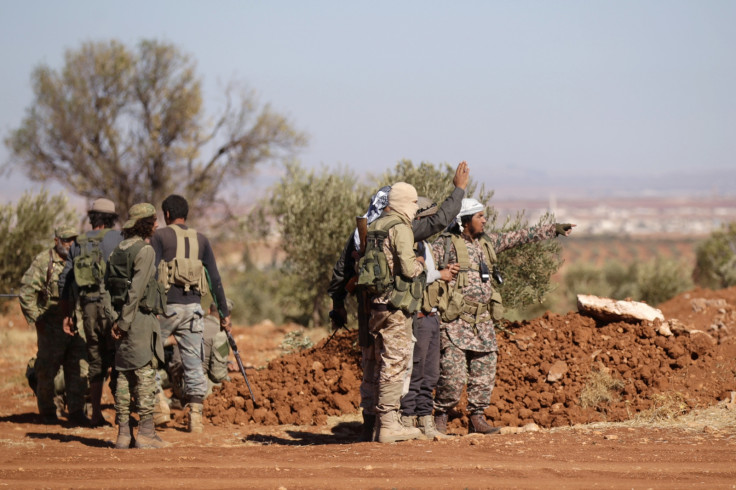 Addressing a press conference on Tuesday (27 December), Erdoğan said he had evidence showing that US and its allies were supporting Isis.
"They [anti-Isis coalition forces] were accusing us of supporting Daesh. Now they've all vanished and they're giving support to terrorist groups including Daesh, YPG and the PYD. It's very clear. We have confirmed evidence, with pictures, photos and videos," the president said, using the Arabic acronym for Isis and abbreviations for Kurdish groups - People's Protection Unit and Syrian Kurdish Democratic Union Party.
However, Washington has rubbished Turkey's claims.