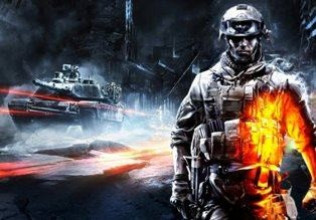 Battlefield 3 has held off the competition for yet another week, claiming the UK games chart top-slot despite the arrival of the highly-anticipated PS3 exclusive Uncharted 3: Drake's Deception.
EA's popular military shooter retained the number one spot despite a hefty 54 per cent drop in sales. The game's performance makes it the first Battlefield title ever to have retained the crown past its opening week.
Below it in second, Naughty Dog's PlayStation-only Uncharted 3 still enjoyed fairly strong sales, boasting the PS3's eleventh highest launch week ever after seeing a 37 per cent increase in opening week sales over its predecessor Uncharted 2: Among Thieves.
Below the two, Batman: Arkham had a disastrous week, dropping two places after a 60 per cent drop in sales. Taking advantage of the caped-crusader's weakness, FIFA 12 retained third place, while Ubisoft's Just Dance 3 continued to slow dance at fifth.
Indicative of a general lull in sales, SEGA's Football Manager dropped two places into sixth after a 43 per cent decrease in sales, while Forza Motorsport 4 dropped down one place into seventh after a 25 per cent decrease.
In the lower echelons of the top 10, despite a somewhat poor performance by its parent company, SEGA's new Sonic Generations enjoyed a fairly strong opening, taking tenth place in its opening week.
Above it 505's Zumba Fitness and Activision Blizzard's Skylanders: Spyro's Adventure both saw an atypical rise in sales. 505's hip-gyrating Zumba title rode a 35 per cent increase to come in eighth, while Activision's latest Spyro adventure held its ground at ninth after a 17 per cent increase.
TOP 10 ENTERTAINMENT SOFTWARE, WEEK ENDING 5 November, 2011
1) BATTLEFIELD 3, ELECTRONIC ARTS
2) UNCHARTED 3: DRAKE'S DECEPTION, SONY COMPUTER ENT.
3) FIFA 12, ELECTRONIC ARTS
4) BATMAN: ARKHAM CITY, WARNER BROS. INTERACTIVE
5) JUST DANCE 3, UBISOFT
6) FOOTBALL MANAGER 2012, SEGA
7) FORZA MOTORSPORT 4, MICROSOFT
8) ZUMBA FITNESS, 505 GAMES
9) SKYLANDERS: SPYRO'S ADVENTURE, ACTIVISION BLIZZARD
10) SONIC GENERATIONS, SEGA
[GFK]