7-year-old boy forced into work after being abandoned by family wins China's heart
Video of Little Li working as courier in Qingdao housing block viewed 18 million times.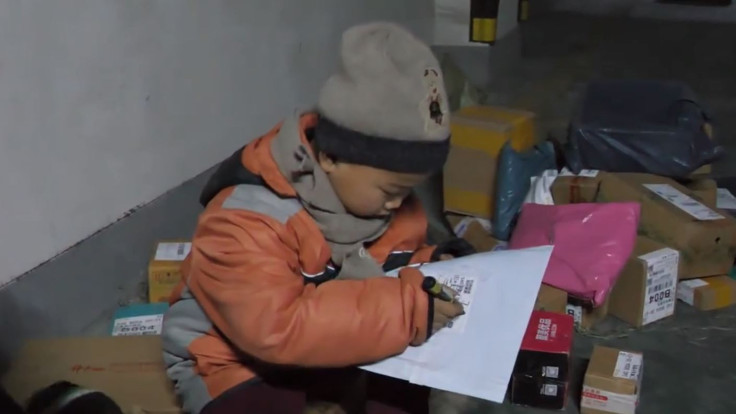 A seven-year-old boy has unwittingly sparked a debate in China over child cruelty after a video of his daily routine was circulated on social media.
The video, which shows the boy known as Little Li delivering letters at an apartment complex in Qingdao, northeast china, has been viewed over 18 million times on the Pear Video website.
According to the video, Li was left on his own after his mother abandoned him and his father died. Since the age of three he has been living with a friend of his father.
The boy's guardian works as a mail courier and started taking Li with him on his rounds. The boy now carries out deliveries on his own.
A video of the boy was originally uploaded to WeChat by local resident Wang Qingwei.
"He handed me a big package with some difficulty and asked me to sign a confirmation receipt," Wang said. He then invited the boy into his apartment for a rest.
The video has unleashed a barrage of interest with well-wishers sending messages of support, money - and demands for legal action.
"What an awesome little guy, I hope the civil affairs department can help crowdfund to give him a better life," one commentator said.
Another wrote: "The relevant departments should help this little boy and prosecute his mother."
Authorities have confirmed that they are looking into the case to see whether it constitutes child cruelty - unusual in a nation that often stifles public debate about uncomfortable issues such as poverty and education.
"The local police authority has not yet found the boy's registered household and we are trying to find the boy's mother," a notice to journalists said.
Earlier this month, pictures of a maltreated young boy were widely shared on social media in China. "Frost boy", as he came to be known, was pictured with frozen hair and swollen hands after he completed his daily 4.5km walk to school in freezing temperatures.