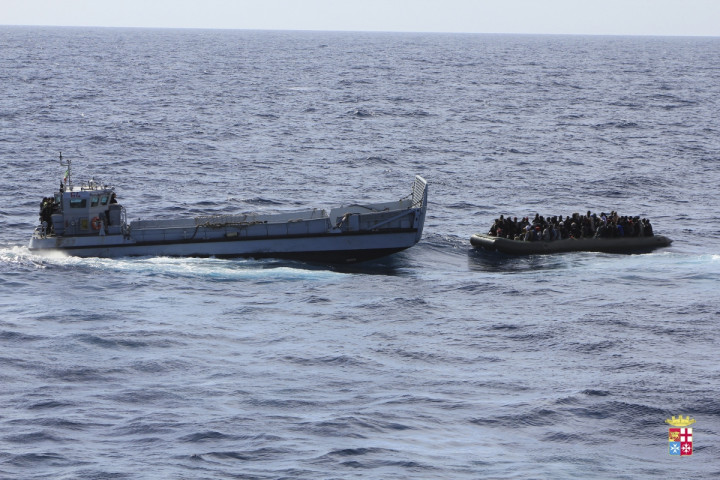 More than 800 people have been rescued from boats in distress in the Mediterranean Sea within the last 48 hours, Italian and Libyan officials have said.
The Italian coastguard said that it rescued more than 600 migrants in the Mediterranean Sea between Sicily and North Africa this weekend, according to Reuters.
A further 270 Syrian refugees were rescued off northern Cyprus when their ship's engine broke down.
The vessel, which is believed to have sailed from the Turkish port of Mersin, had been drifting for several hours before it was towed to northern Cyprus.
Kibris Postasi reported that the refugees, which included 30 children, were brought to an indoor sports stadium.
Italy's coastguard said it picked up 520 migrants in the Strait of Sicily between Thursday night and Friday, before heading 60 miles north of the Libyan capital Tripoli to assist a merchant ship that had picked up 93 migrants.
Last month, Italy said it would close its Mare Nostrum mission, which has saved more than 100,000 migrants coming to Europe in search of sanctuary from war, poverty and human rights abuses in Africa.
The naval mission began a year ago after more than 360 people, mostly Eritreans, drowned when their boat capsized a mile from the southern Italian island of Lampedusa.
The Italian navy's response comes a day after Libya's navy announced that it rescued 105 migrants from a boat that broke down off the coast of Garabulli, 50km east of the capital Tripoli. This brings the total number of reported rescues over the weekend to 796 people.
In 2013, nearly 8,000 people arrived on Europe's shores within the first six months, and 35,000 in the second half of the year.
This year, at least 65,000 made the perilous journey in the first half of the year, and more than 150,000 people have arrived since.