New Yorkers and families of victims gathered at the 9/11 Memorial to mourn the loss of 2,977 lives on September 11, 2001. The somber service marks the 18<sup>th year anniversary of the tragedy that shook the world.
This day is still widely mourned all over the United States of America and the rest of the world. To pay tribute to those affected by the terror attacks, an annual memorial service takes place at the site where the twin towers once stood. This year will be the first year where mourners will see the names of those killed by the toxic fallout of the crash. Search and rescue workers and local residents suffered and died after inhaling the toxic particles left by the ruins of the buildings. The Glade had monoliths dedicated to those victims.
Families and residents of New York gathered at the memorial to attend the service. A police band marched behind four policemen carrying a worn-out American flag. The holes and tears on the flag symbolise how the attack left the nation scarred.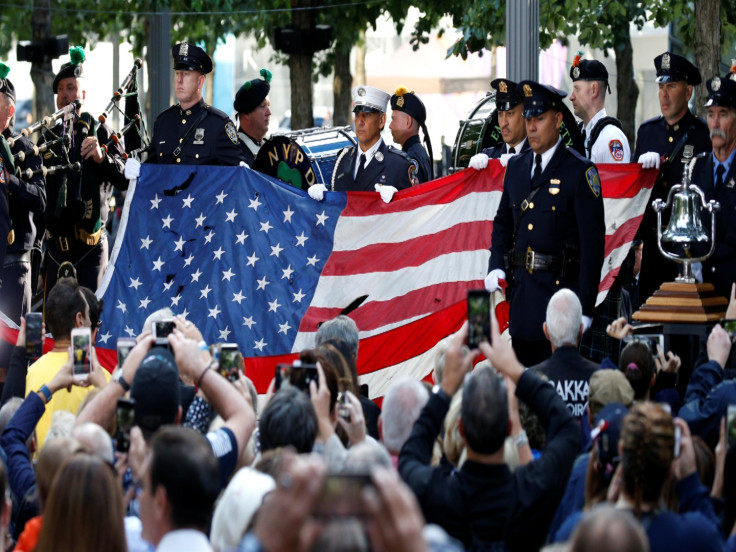 This year, the ceremony was kicked off with "The Star-Spangled Banner" sung by Kassidy Rieder. Rieder, a student at Long Island School for the Arts, was not yet born when the attacks took place. Nancy Collins, Rieder's mother, was one of the police officers who worked at ground zero after the attacks. Collins was a part of the search and rescue operation.
Following the anthem, the crowd observed the first of the six moments of silence marking each of the six targets attacked in 2001. Over the next few hours, the names of those who died during the attack will be read by several readers. Once the names are read and the moments of silence observed, church bells will ring to draw the service to and end.
The remembrance will not end with the end of the service. A "Tribute in Light" will take place at dusk and will continue till dawn. CBS News New York is one of the channels which will cover the entire memorial live.
The Pentagon, where 184 people lost their lives, also mourned the day with a service. President Donald Trump and First Lady Melania Trump attended the service. Trump's speech from the Pentagon addressed the whole nation in mourning.
CNN points out that this will be the first year that all New York schools will be mandated to observe a moment of silence. Even though most schools voluntarily observed a moment of silence every year, New York Governor Andrew Cuomo passed a law making it compulsory for all schools to do it.
The whole world stands with the US as the country mourns the fallen men and women. Some protest groups in Hong Kong have called to halt demonstrations for a day as a show of respect to the victims of the terror attack.