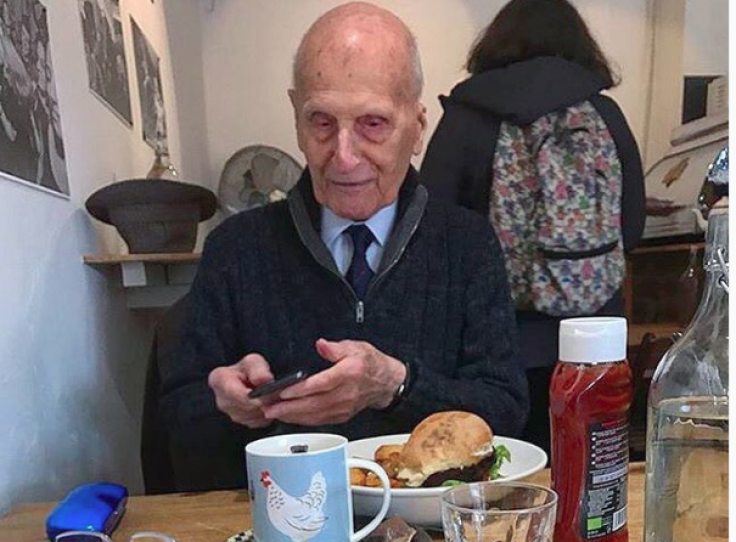 It is thought that the older people get, the less interested they are in trying out new things. This isn't the case for a certain old-aged pensioner, whose picture stood out like a sore thumb on my Instagram feed today, which mainly includes images of food and dogs (and the odd Ed Westwick shot) – if we're valuing honesty here.
As I was casually scrolling through said snaps of acai bowls and Shih Tzu's while sipping my morning tea, a certain image prompted a belly laugh. Vegans of London's account posted a picture that was originally taken on food blogger Emilia Leese's Instagram page – founder of website Emi's Good Eating.
The snap was of her friend, 99-year-old Jim, eating a delicious-looking dish at one of Hackney's most fashionable vegan restaurants – Black Cat. I haven't even made it down there yet in fear of not being trendy enough.
The restaurant is 100% vegan and includes drool-worthy dishes such as veggie curries, pancakes, pasta and hearty soups.
Emilia captioned the shot: "Jim and me at @blackcathackney getting our phones out. We both know the camera eats first. He's having a burger and I had the seitan sandwich. He had never tried the burger (loved it) and I had never tried the seitan (loved it). And loved seeing the place so full and buzzy!!".
Italian-born Emilia, 46, met Jim when she volunteered at a pensioner lunch club in Clerkenwell in 2010. She has been vegan since 2013 and has lived in London since 2001. She said about her friend: "He is only vegan when we meet up, unfortunately. But he now goes to Black Cat regularly and loves their food."
Unlike many older people, Jim – who was born in the Paddington area and currently lives in the hip area of Shoreditch – completely embraces veganism. But he admits he cannot relate to the concept at all. Emilia added: "He doesn't really relate at all, but respects it. He has a great attitude. We've been meeting for lunch once a month for the last six years.
"We used to go to a pub and I would either have a salad or a baked potato. Then he said it wasn't good enough.
"We had to go somewhere where I'd eat. I took him to Amico Bio in Smithfield and he liked it, but there were too many raw vegetables for him – he doesn't like that.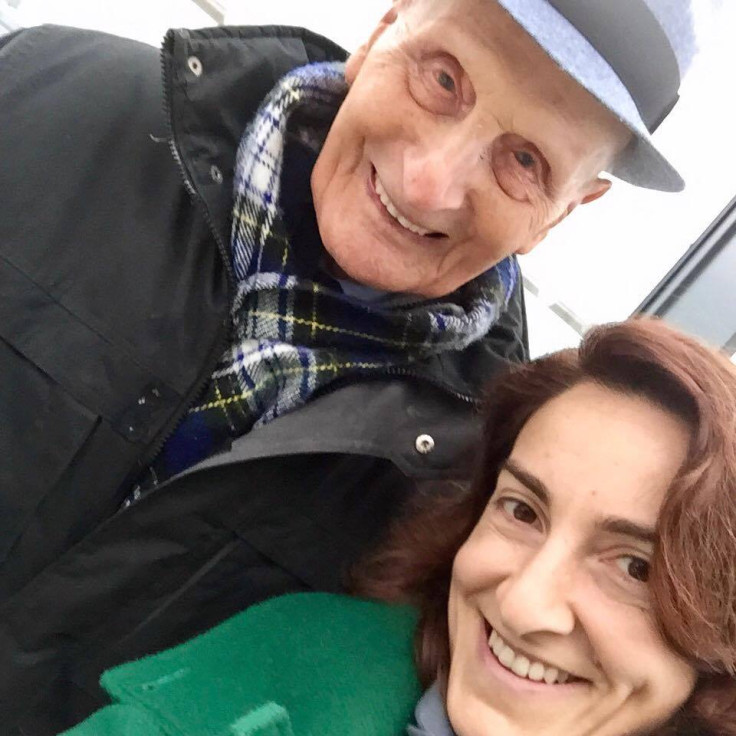 "So I mentioned Black Cat to him. He went to suss it out and tried it on his own. He loved it. And we've been meeting there since," she added.
Open-minded Jim has shown a curiosity about Emi's way of eating since she told him she was vegan upon meeting. She said: "He asked me what it meant.
"I said that I had decided that it was wrong to eat or use any animals so I was no longer going to do that. He was concerned about what I'd eat at the regular places we would go. And I always found something, as we always do."
If you hadn't noticed, Jim is clasping a mobile phone in the Instagram snap – and looks as if he's about to take a picture of his impressive looking meal. Emilia said: "He is so tech savvy. He uses Facebook, Google maps, YouTube, his smartphone – everything." That'll put me in my place when I struggle to turn my computer on in the mornings.
Elaborating on her inspirational older friend, Emilia said: "Whenever someone says, 'Oh, I can't do that', I tell them about Jim. He is truly extraordinary – and I am extremely lucky to have him as a friend."