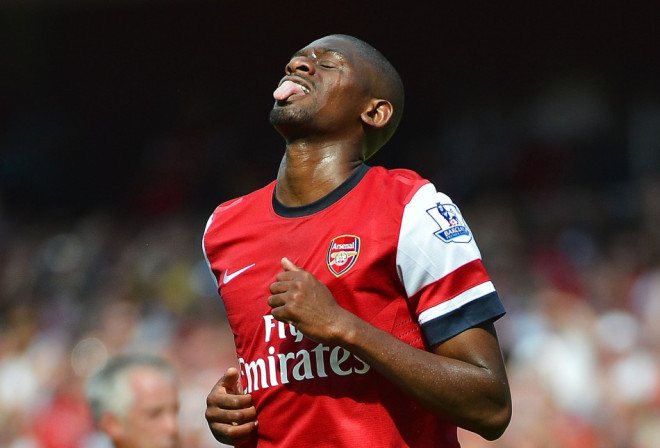 Abou Diaby has revealed that he wants to return to action as soon as possible after missing out for over an year with an anterior cruciate ligament injury.
The Frenchman, who had the potential to be among the best in the world, was blighted by injuries, which prevented him from progressing as a player. The midfielder has never played a full season with the Gunners, constanting falling prey to gruesome injuries which keep him on the sidelines for months on end.
His talent was on display against Liverpool at Anfield last season where he single handedly dominated the Reds and was a nuisance to reckon with for the Merseydide defence.
However, the midfielder fell prey to yet another injury during the international break and was out for a few months, before being sidelined completely for the knee injury.
In spite of the barrage of setbacks, Diaby has refused to back out and wants to help Arsenal win the title by coming into the side in the latter half of the season.
"I never had such a long break.I never had a knee injury and it is really weird. You can feel physically there is something different." Diaby told France Football.
"But I learnt a lot from my injuries. I can keep things in perspective. Even now I am very close to the end of my specific work, I keep things in perspective.
"I can master my impatience. I want to be back being strong, very strong and perfectly at ease in my body.
"I work hard without asking questions. I work hard because I know in the end I will play again.
"I am still a high level footballer in my mind, otherwise I would have given up. But I never think to give it up.
"My priorities? Feeling fine and play again before the end of the season.
"I don't think I will be scared to play. I trust my body. Nowadays I feel strong, but I know coming back to London I will also have some changes. I am watching closely my diet and recovering periods," he added.
Diaby also revealed that he has not given up on the World Cup and wants to get back into action as soon as posible to give himelf a chance to make it to Brazil with the squad.