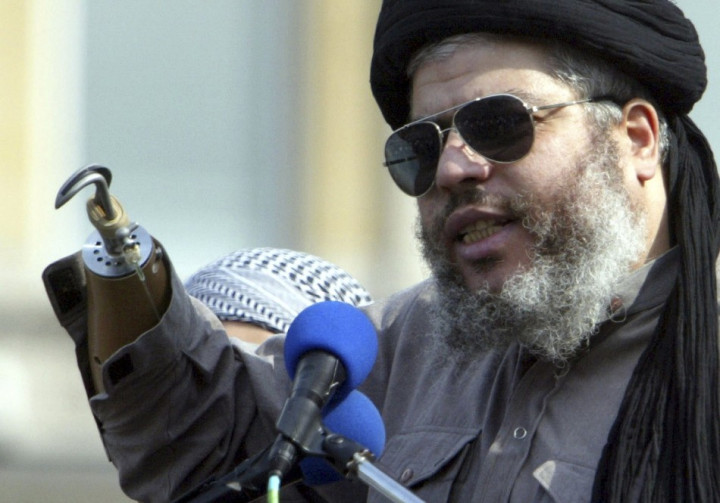 Lawyers for terror suspect Abu Hamza are appealing against his extradition to the US on the grounds that his health is deteriorating.
Hamza's lawyers, resuming their case against extradition in the High Court today, have said their client needs an MRI scan and said his poor health is down to "sleep deprivation".
His lawyers have argued Hamza's health has deteriorated because of the "unrelentingly harsh environment" he has been in during his detention, and legal papers claim it would be "oppressive" to send him to the US to face terrorism charges.
Radical cleric Hamza won a last-minute injunction against extradition to face terrorism charges on 26 September along with second suspect Khaled Al-Fawwaz.
Alun Jones QC asked the court for another temporary injunction so Hamza can have an MRI scan. He said a judge referred to Hamza's "very poor health" at an extradition hearing in 2008.
Jones told the High Court: "Over four years later, it appears there has been, or may have been, a further deterioration, perhaps attributable to sleep deprivation and the continued confinement of the appellant in an unrelentingly harsh environment."
Hamza is one of five terror suspects along with Babar Ahmad, Syed Talha Ahsan, Adel Abdul Bary and Khaled al-Fawwaz who must show "new and compelling" evidence to avoid extradition.
The men were not present during the proceedings, as they are still all in custody.
The appeals came as the European Court of Human Rights effectively gave permission for Britain to deport the Egyptian born-cleric and the four other suspects.
Hamza, who was jailed for seven years for soliciting murder and inciting racial hatred in 2004, argues that he would face inhumane treatment in the US.
The Home Office described the latest appeal was nothing more than a delaying tactic.
A spokesperson said: "The European Court of Human Rights ruled there was no bar to the extradition of these men. We will continue working to ensure they are handed over to the US authorities as soon as possible."
Hamza, who claims to have lost an eye and hand fighting the Soviet occupation of Afghanistan in the 1980s, used London's Finsbury Park Mosque as a base to persuade young Muslims to take up the cause of holy war.
He is also accused of planning a terror training camp in the US and assisting hostage-taking in Yemen.
Computer expert Ahmad has been held in a UK prison without trial for eight years after being accused of raising funds for terrorism along with Ahsan, while it is claimed that Bary and al-Fawwaz worked as aides for Osama Bin Laden in London.