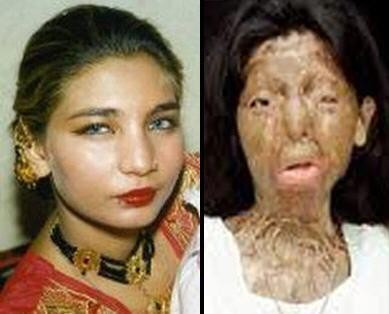 Pakistan acid attack victim Fakhra Younus committed suicide by jumping from the sixth floor of a building in Rome where she was taking treatment. Fakhra was allegedly attacked by her ex-husband Bilal Khar in 2000.
Her death has caused an international outcry and sparked protests against the plight of Pakistani women who face such atrocities. Fahkra Younus is just one among millions of women who still fall victims to such brutal attacks.
From rape to domestic violence, women around the world become victims of male domination. According to a 2011 report by the Aurat Foundation in Pakistan, acid throwing in Pakistan has increased by 37.5 per cent.
In most cases, acid attack is used as a form of revenge by a jilted lover for rejecting his love or marriage proposal, spurning sexual advances and demands for dowry. Acid attacks leave the victims horribly disfigured since the attacks are mostly directed at the face, damaging the skin and leaving a permanent scar on the victim. The attack also destroys her physical appearance, often leaving her blind.
A poll conducted by TrustLaw, a Thomas Reuters Foundation Service, in 2011 identified five countries as the most dangerous ones to be a female. These are: Afghanistan, the Democratic Republic of Congo, Pakistan, India and Somalia. Apart from key issues like female foeticide, infanticide and human trafficking, acid attack has become a key issue of violence against women.
Although many countries have organisations and groups that help women victims and ensure justice, violence against women still continues. Fakhra Younus is no more, but the fight for women's justice continues.
Take a look at other acid victims who survived the attacks and bravely fought for justice
Also Read: Meet a Six-Legged Wonder and Other Weird Deformed Animals [PHOTOS]