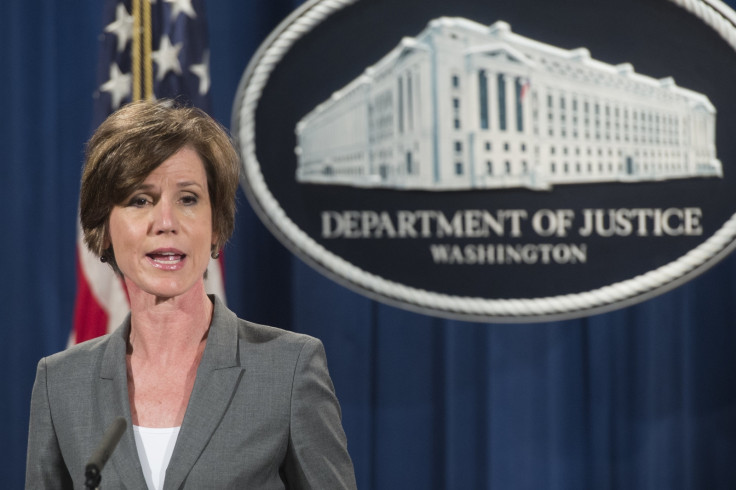 The US Justice Department has been ordered by the acting attorney general — a holdover from the Obama era — not to defend President Donald Trump's controversial executive order that temporarily bars refugees and people from seven Muslim majority countries.
The letter to Justice Department lawyers from Acting Attorney General Sally Yates says that "for as long as I am the Acting Attorney General, the Department of Justice will not present arguments in defense of the Executive Order, unless and until I become convinced that it is appropriate to do so.
"My responsibility is to ensure that the position of the Department of Justice is not only legally defensible, but it is informed by our best view of what the law is after consideration of all the facts.
"In addition, I am responsible for ensuring that the positions we take in court remain consistent with this institution's solemn obligation to always seek justice and stand for what is right.
"At present, I am not convinced that the defense of the Executive Order is consistent with these responsibilities nor am I convinced that the Executive Order is lawful."
The order for the Justice Department is likely to not remain in place for long as Yates' successor, Alabama Senator Jeff Sessions, is close to being officially confirmed.
Stephen Miller, White House policy director, said on MSNBC that Yates' actions were "a further demonstration of how politicised the country's legal system has become.
"It's sad that our politics have become so politicised that you have people refusing to enforce our laws," he added.
President Trump tweeted to accuse Democrats of delaying the confirmation of his cabinet nominees, adding a slight at Yates. "The Democrats are delaying my cabinet picks for purely political reasons. They have nothing going but to obstruct. Now have an Obama A.G." he said.