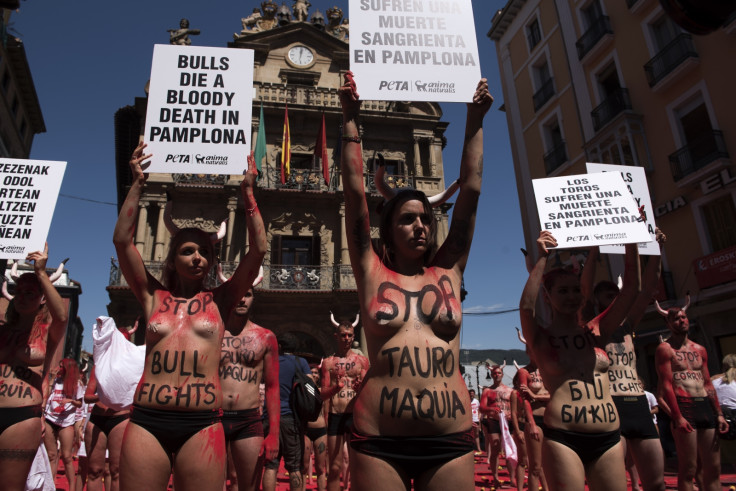 This is the moment an animal rights activist leaped into a Spanish bullring as a bull lay dying after being speared to death.
Peta captured the shocking video footage of a Vegan Strike Group member jumping into a Pamplona bullring to shield a bull who lay bleeding to death from knife wounds.
Before being escorted away by officials, the man – who had the message Basta Corrida (Stop Bullfights) painted on his body – held a sign stating: "Bullfighting Is Torture".
The action took place during Pamplona's infamous San Fermin festival, where 54 bulls are chased down the slippery cobblestone streets before being beaten, speared and stabbed to death in the bullring.
His activism is part of a wider campaign by the group to stop animals from being abused and killed for human entertainment.
Peter Janssen of Vegan Strike Group said: "The bull was terrified and in excruciating pain – we couldn't leave him to die alone.
"We represent the majority of people around the world, who are calling for an end to this cruel event."
Watch the clip:
Peta Director Elisa Allen added: "Bullfighting is an abusive, archaic spectacle that has no place in a civilised society.
"Peta commends these brave protesters for reminding spectators that tormenting and killing animals for so-called 'entertainment' is contemptible," she added.
Bullfighting is a physical contest that involves humans attempting to publicly subdue, immobilise or kill a bull, usually according to a set of rules or cultural expectations. It is a traditional spectacle of many countries including Spain, Portugal, parts of southern France, India and Tanzania, and some Latin American countries.
Thousands of bulls are slaughtered in bullrings around the world each year.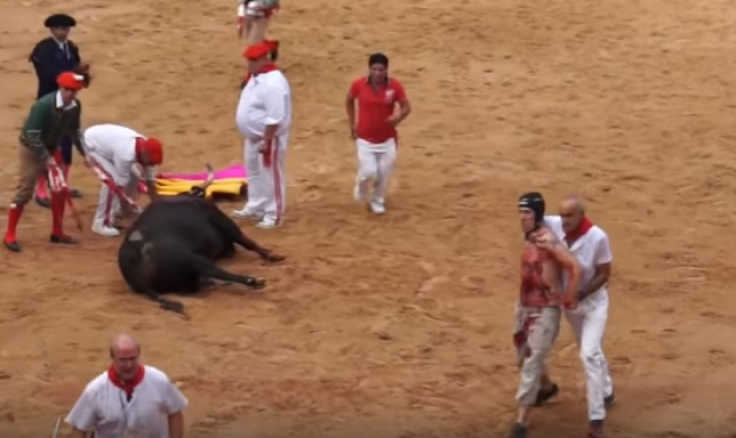 Explaining the brutality of the sport, Peta says: "In a typical Spanish bullfight, the bull enters the arena and is approached by picadors – men on horses who drive lances into the bull's back and neck muscles.
"This attack impairs the bull's ability to lift his head and defend himself. They twist and gouge the lances to ensure significant blood loss."
They add: "Finally, the matador appears and, after provoking a few exhausted charges from the dying animal, tries to kill the bull with his sword. If he misses, succeeding only in further mutilating the animal, an executioner is called in to stab the exhausted and submissive bull to death."