Adam Johnson trial: Ex Sunderland footballer 'quizzed over girl's age' by girlfriend Stacey Flounders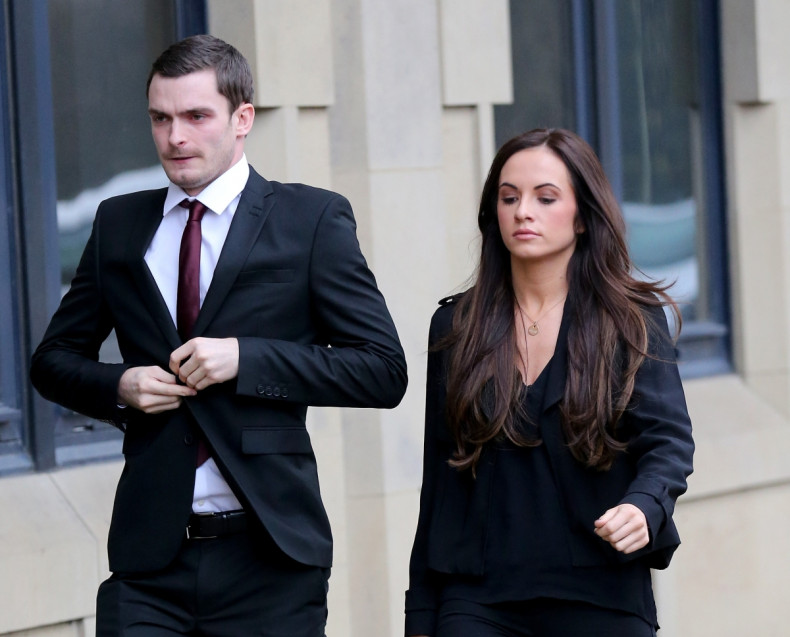 Former Sunderland footballer Adam Johnson asked whether kissing constitutes sexual activity after being arrested for child sex offences, a court has heard. The 28-year-old, who has 12 England caps, is accused of two counts of sexual activity with a 15-year-old girl. He denies the charges.
Bradford Crown Court heard evidence on 19 February from the officer who arrested Johnson at his home in Castle Eden. Detective constable Kimberley Walton, of Durham Police, said she took Johnson to a games room in his home, leaving his girlfriend, Stacey Flounders, sitting on the stairs.
She said after his arrest, Johnson asked: "Is sexual activity a kiss or is that not sexual activity?" He denied sexual activity with the teenager other than kissing. The officer told the jury: "At the time of the caution and arrest of Adam Johnson, he was stood by a bar area. He had to hold on to it and he became a little bit shaky."
She told the jury he said the teenager's name, adding: "I just gave her a couple of shirts." The court heard that Flounders asked: 'How old is she?' and Johnson replied: 'Well, she said she was 16."
Johnson has admitted one charge of sexual activity with a child and one charge of grooming. He was sacked by Sunderland as a result.
The court also heard that in a police interview, Johnson admitted setting up a separate Snapchat account. He said: "It was mainly so my girlfriend wouldn't be suspicious. We have had a few arguments about me texting girls. I have admitted I have texted people before and she wouldn't believe me if it came up again."
The jury was also shown pictures of Johnson's "groin area" found on his iPhone. Police computer and phones expert Paul Hunton retrieved the pictures and told the court Johnson had accessed webpages after 30 January 2015, regarding the legal age of sexual consent.
The previous day, the jury was read a transcript of testimony the girl's father gave to police. He said his daughter came downstairs and sat being "cuddled" before explaining that she met Johnson and "things have happened".
Her father told police: "She came downstairs crying her eyes out and said she wanted to kill herself. I told her that no matter what she thought I would say, I would always be with her. What is it? And she replied: 'I have met up with Adam Johnson'. I think I asked her what had happened. She replied: 'Things have happened.'"
The trial continues.