The new Jaguar F-Type is the world's first car to come with a system for overlaying live performance data onto video recorded by a GoPro camera.
Owners looking to analyse their driving on track can attach a GoPro camera to the car (on the bonnet, for example) and import data directly from the car's computer to the footage. Attaching the phone to the car with a USB cable and to the camera over Wi-Fi ensures the data and video footage are perfectly synced.
Data captured by the system, called ReRun, and available to view alongside footage include speed, throttle position, gear selection, braking force, g-force and steering wheel angle; the data is displayed over the recorded footage using animated gauges. The ReRun app can also analyse the data to produce highlights like peak cornering and braking forces.
Drivers of the new F-Type can then download either the entire video or just highlights, and there is an editing function to trim out any off-track excursions where speed overtook talent. The videos can then be shared on social media via the ReRun app. All new F-Types bought with the InControl Apps suite and recorded with a GoPro Hero 4 or Hero 5 have access to the app, which is iOS-only for now.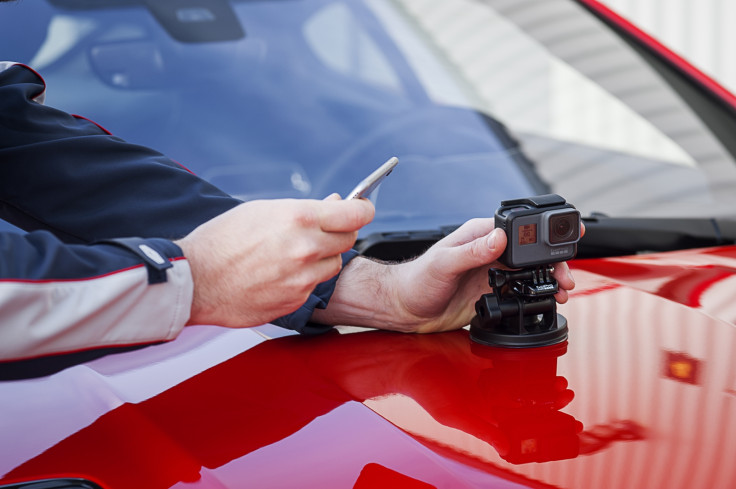 Also new for the 2018 F-Type, which goes on sale later in the first quarter of 2017, is an updated exterior look which includes new LED headlights and a redesigned front bumper. Jaguar will also bring its faster Touch Pro infotainment system to the F-Type for the first time, offering a Spotify app and increased personalisation over the standard system.
Touch Pro has an 8-inch touch screen and a 4G internet connection; it is powered by a quad-core processor and has a 60GB solid-state hard drive.
Now spanning across 22 different versions, the new F-Type range includes a new model called the 400 Sport, which features a 400PS (395bhp) version of Jaguar's 3.0-litre V6. The new model, only available in yellow and 'dark satin grey', also features an uprated chassis and braking system, and a new set of unique 20-inch wheels.
The new F-Type starts at £51,140 for the 3.0-litre V6 model and runs up to £110,000 for the V8 SVR, with the new 400 Sport costing £70,115.