Tottenham Hotspur striker Emmanuel Adebayor has said that he will do everything in his power to kill Arsenal's hopes of qualifying for the Champions League next season. Tottenham have to depend on their neighbours to slip up in the race for the top four as they are currently one point behind the Gunners in fifth with Chelsea having already secured a place in the Champions League after their 2-1 win over Aston Villa on Saturday.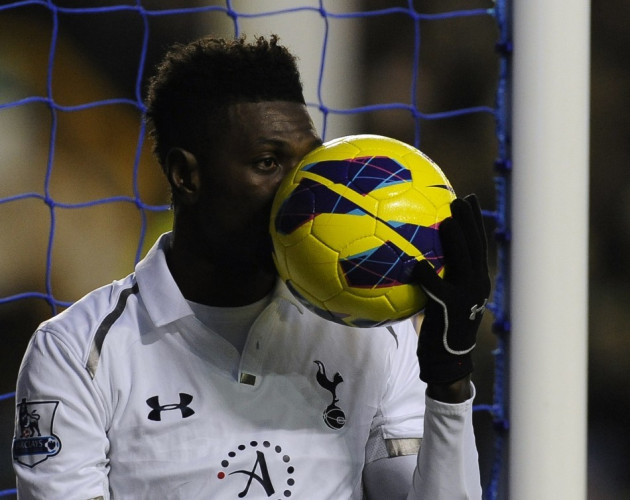 Adebayor regained his form in Spurs' 2-2 draw against Chelsea, scoring one goal and making the other to bring Tottenham level. The former Arsenal man, who transferred to Manchester City before moving to Tottenham, insists that he has no affinity left for Arsenal and believes that the Gunners will drop points in their two remaining games.
"My head, my ­concentration, my focus, my life belongs to ­Tottenham. Arsenal was a different life. Now, I prefer Tottenham and ­everything belongs to Tottenham. I don't care what Arsenal do, what they achieve. That's not my ­problem anymore. If I can kill them, I will ­definitely kill them because we are in a game where you have to do your best for your team. And now I'm in ­Tottenham, I have to give ­everything to Tottenham. Of course, Arsenal can drop points. Why not? They have dropped points throughout the season and they can drop points again now," he told the Mirror.
Adebayor has been in indifferent form this season, scoring only seven goals for his club in 25 starts in all competitions. However, the Togo international has blamed his lack of form on injuries and the African Cup of Nations in January but insists that he is getting fitter by the day.
"I've had a very tough season. I signed for the club late, I didn't have any pre-season, I had a lot of injuries and there was the African Cup of Nations. I hope I will have a good finish to the season because now I am getting fitter and fitter every day. I just have to keep going and doing my thing to the end of the ­season. Then I will know my future and what is happening to my future," he added.