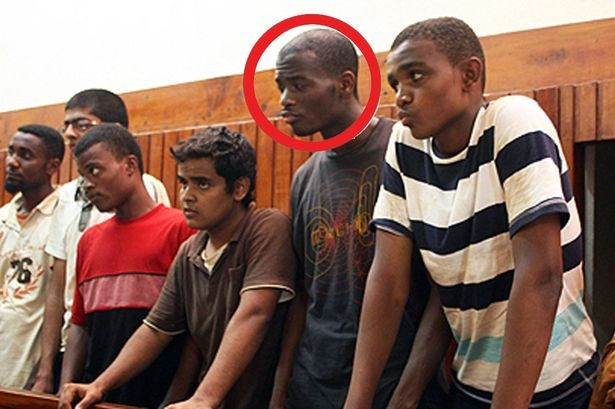 Woolwich murder suspect Michael Adebolajo was arrested in Kenya on suspicion of terrorism offences and deported, it has been revealed.
Kenyan police detained Adebolajo and seven others on suspicion of travelling to join the terrorist group Al-Shabaab, according to media reports.
Adebolajo's brother-in-law, Abu Zuybyr, claims that he was repeatedly "harassed" by security service agents and pressurised to become an informer on his return.
"That is what the [Mr Adebolajo's] family is saying; that the secret service pushed him over the edge," Mr Zuybyr told the Independent.
The Foreign Office today confirmed that Adebolajo had been arrested in the country.
Confirmation has also been provided by the Kenyan government, although ministers in Nairobi claim Adebolajo was arrested under a different name.
A spokesman for the Nairobi administration said: "Kenya's government arrested Michael Olemindis Ndemolajo. We handed him to British security agents in Kenya and he seems to have found his way to London and mutated to Michael Adebolajo.
"The Kenyan government cannot be held responsible for what happened to him after we handed him to British authorities."
'He changed after Kenya'
Mr Zuybyr said that Adebolajo, who is now 28, changed after he came back from a trip to Kenya in 2010, where he said he had travelled to Nairobi to study Islam and Arabic.
During the trip, he was arrested on an island off the Kenyan coast by police who accused him of travelling to Somalia to join Islamists.
A court report described him as a "Nigerian who had a British passport."
"We are being tortured by the police and we haven't eaten for two days now," he was quoted as saying by local media at a court appearance. "We have been denied the right to talk to our family members and lawyer. We are being treated as criminals and we are innocent."
Adebolajo was detained in jail for several days then released, "after it was established that his travelling documents were genuine and that he lacked a criminal record", the report stated.
Zuybyr says that whilst in jail he was tortured, threatened with rape and had his genitals grabbed. He said that Adebolajo was initially told he would be jailed for years, but after the Foreign Office intervened he was released straight after his court appearance.
On Friday, a friend of Adebolajo appeared on the BBC's Newsnight programme and claimed that he had been contacted by MI5 about six months previously.
When he returned to the UK, Zuybyr said that Adebolajo complained of being repeatedly harassed by MI5 to turn informer for them, and that other members of the family were also pressurised.
Mr Zuybyr said: "MI5 contacted me and showed significant interest in Michael. I was harassed for a while, with constant calls from people claiming to be from the FBI."
Sir Malcolm Rifkind, who chairs the Intelligence and Security Committee, told the Independent on Sunday "I have been following all the news items and you can certainly assume that any of these serious allegations will be put to the intelligence agencies."
'Im cool, I've become Muslim'
On Saturday three more men, aged 21, 24, and 28, were arrested in connection with the Woolwich murder and detained at a south London police station.
It follows the arrest of a man and woman on 23 May.
When asked on the BBC's Andrew Marr Show whether it seemed probable that the murder was not a 'lone wolf' attack, home secretary Theresa May said: "I think the indications, all the indications, would be for that."
It was also revealed last night that Adebolajo's accomplice, Michael Adebowale, was detained by police three months ago.
The father of murdered schoolboy Damilola Taylor, who was asked by Adebowale's mother to mentor him when he fell in with a street gang, told ITV News: "I spoke to him about two months ago. [I said] 'Look, Toby, your mother is complaining again about you.' And he said, 'No, I'm cool, there is nothing, I have changed, I've become Muslim.'
"Having seen how my own son was stabbed to death, it made me feel that for them to go at the end of whatever happens they will still be alive, they will still be on the street, or maybe they will take them away from the public and change their faces. They don't deserve to live."