Adele has made a young fan's dream come true after she paid a surprise visit to her at home. The singer, who was in Belfast for a concert, dropped in on 12-year-old superfan Rebecca Gibney who has cerebral palsy and epilepsy.
The star sat beside Rebecca in her bed, surrounded by her cuddly toys. Rebecca's mother Tracy Gibney, said the singer "couldn't have been nicer."
Ms Gibney who is from the Short Strand area of Belfast had started a campaign last year in the hope that she could get Adele to send the girl a video message. In her petition she wrote: "I have a very sick daughter who has cerebral palsy, can't walk or talk and is tube fed. She recently became bed bound. She listens to Adele from when she gets up in the morning until bedtime. All I am asking for is for Adele to Facetime or send a video message. It would be her dream come true. Please, please help my beautiful sick daughter."
Ms Gibney revealed Adele's manager telephoned her when she was in her hairdresser and said the star wanted to meet the youngster. Speaking to Belfast Live, Rebecca's mum said: "It all started months and months ago, I set up the page for Rebecca to meet Adele. I got the manager's email and I emailed her four months ago and she said to leave it with her. I did not hear anything back and last night I sent another email.
"I was sitting in the hairdresser today and the manager called and said Tracy it's Adele's manager I am getting back to you because Adele has seen your Rebecca's pictures and she was very emotional and she wants to come and meet your daughter." She added: "I shouted at the hairdresser, 'Get this off my head I need to go', I wanted to keep it private.
"Adele was sat beside her and she was talking to me and my other kid, she was so nice for wee Rebecca. I cannot put it into words what it means. Adele was in my house, sitting on my hospital bed, Adele was in the Short Strand.
"I am in shock, I got my baby's dream to come true. She was so nice, she could not have been nicer. It is unbelievable her dream has come true."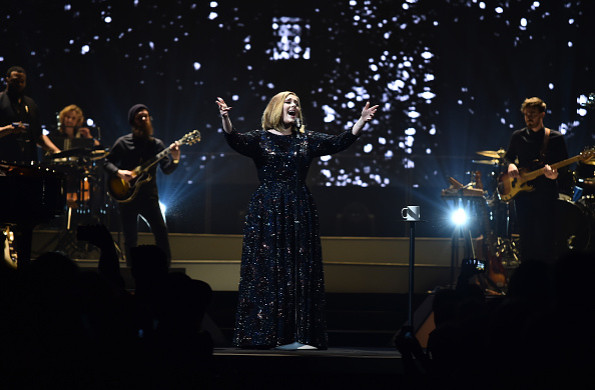 Adele played her second consecutive show to 11,000 fans in Belfast as she begins her world tour, which sees her play more than a 100 dates in nine months.
Appearing on The Ellen Show after her performance on the Grammys, the singer said she was nervous ahead of the arena tour. "Yeah I get nervous. As you get more successful, there's more pressure," she said.
Taking to the stage with a cup of tea in hand, her natural warmth and down-to-earth approach charmed the fans and the critics, while her spiraling vocals left the audience captivated.
Speaking to the audience, the Brit Awards winner revealed she feared her new world tour was doomed. She said: 'I woke up sounding like Arnie. My voice was so deep because I slept with the air con on my hotel room. My kid was being a nightmare, and then there was a spillage at Gatwick and I thought my boyfriend wasn't gonna get here - I thought the whole tour was doomed.
"I've been s**ting myself - I had severe bowel movements. But I've had an Imodium," she joked. The Adele tour is the hottest ticket in town, with 750,000 tickets for the singer's 56-date tour sold out within an hour.