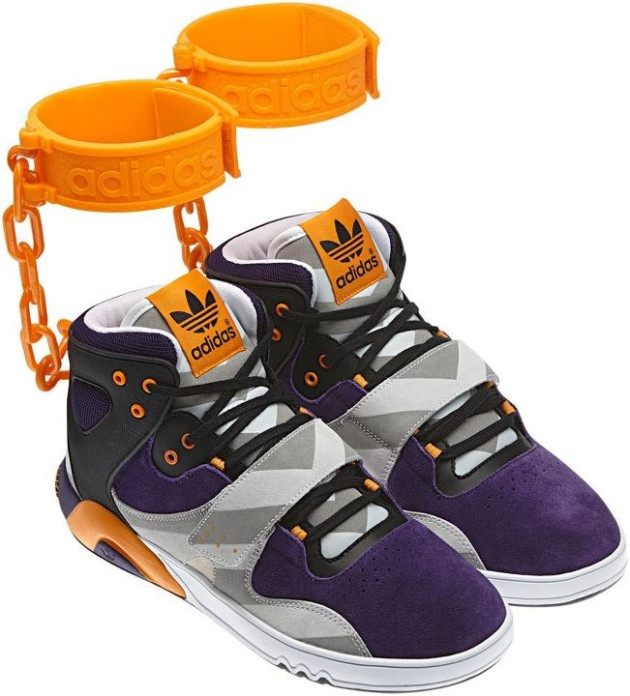 Adidas has cancelled plans to release high-top trainers which feature rubber shackles after they were rubbished for invoking an image of slavery.
The JS Roundhouse Mids, designed by Jeremy Scott, were to be put on the market in August.
A photograph of the trainers appeared on the companies' Facebook page with the slogan: "Got a sneaker game so hot you lock your kicks to your ankles?"
But the post prompted heavy criticism that the shackles were symbolic of slavery.
Kay Tee wrote: "How would a Jewish person feel if Nike decided to have a shoe with a swastika on it and tried to claim it was OK in the name of fashion?"
Another commentator, who identified herself as MsRodwell, wrote on nicekicks.com: "Obviously there was no one of colour in the room when the marketing/product team ok'd this."
Adidas explained that the shoes had nothing to do with slavery and were simply an expression of Scott's "unique" and "quirky" take on fashion.
The company said: "Our collaboration with Jeremy Scott has always stood for creativity and originality. Jeremy Scott is renowned as a designer whose style is quirky and lighthearted and his previous shoe designs for Adidas Originals have, for example, included panda heads and Mickey Mouse.
"The design of the JS Roundhouse Mid is nothing more than the designer Jeremy Scott's outrageous and unique take on fashion and has nothing to do with slavery.
"Since the shoe debuted on our Facebook page ahead of its market release in August, Adidas has received both favourable and critical feedback. We apologise if people are offended by the design and we are withdrawing our plans to make them available to the marketplace."
Scott said his work has always been "inspired by cartoons, toys and my childhood" and that the design of the shoes was influenced by the toy My Pet Monster from the 1980s, whose trademark was orange handcuffs.