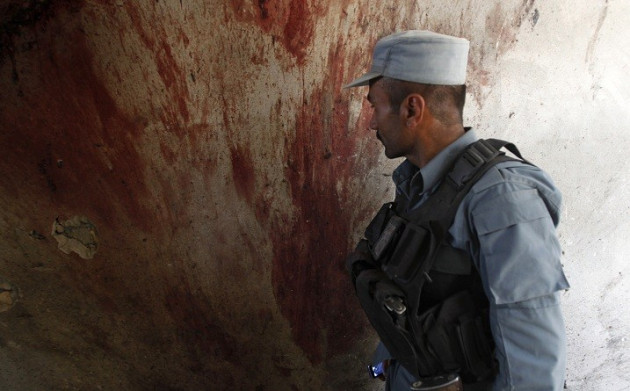 Taliban militants have cut off the head of a 10-year-old boy who was foraging for food in a bin in Afghanistan.
Islamic fundamentalists punished the child after catching him taking scraps of food from a security checkpoint in Kandahar last weekend.
A government spokesman called the act "horrific", while war reporter Mustafa Kazemi, who broke the story, called the punishment "unique."
Kandahar governor Dr Toryalay Wessa today issued a call to catch the militants responsible for the killing "with whatever casualties it takes and at whatever price."
The slaying of the child is the latest in a long line of bloody incidents to hit Afghanistan, as coalition soldiers prepare to leave the country and hand over to local forces.
Twenty hours previously, two boys were beheaded by the Taliban, according to reports.
It came just hours after clashes between Taliban fighters and security forces in the capital city Kabul, kiling seven insurgents. Militants occupied a building near Kabul International Airport, regularly used by Coalition military forces.
'The Taliban don't care about local people'
Kazemi, a former soldier turned correspondent at Combat Journalist, told IBTimes UK: "The Taliban commit horrible acts every now and then, this one is a unique and very, very sad case."
The news of the savage act drew a strong response on social media - with more than 100 Twitter users re-tweeting the news within minutes of Kazemi breaking the story on his news feed.
But inside Afghanistan reaction to the case is a different story, where theTaliban do not care about alienating local people worn down by years of war.
Kazemi said: "The Taliban don't need the local support because their support and weaponry come from outside countries like Pakistan & Iran. So they don't need the locals much and don't care for them either.
"There will be no specific reaction to this case except the order of the governor of Kandahar, who has commanded all the security forces to find and kill those responsible for this horrific act.
"Except this reaction, there has not been a single reaction or condemning of this horrific action by the government authorities."