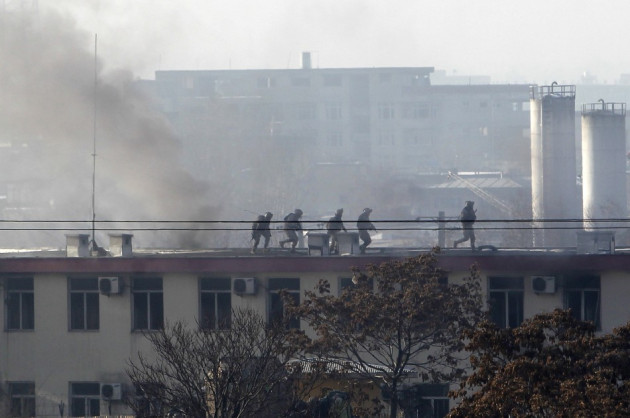 Taliban militants have attacked the traffic police headquarters in Afghanistan's capital of Kabul, detonating explosives and sparking a gun battle that left 10 people injured.
The entrance gate of the police compound, close to the Afghan parliament and Kabul zoo, was blown up by the combined explosion of a suicide bomber and a car bomb that went off just before dawn.
Two or three other attackers rushed into the building "armed with suicide vests and heavy and light weapons," said the city's police chief, Mohammad Ayub Salangi.
A gunfight erupted and proceeded for six hours, with Taliban fighters barricaded inside the building reportedly throwing grenades out of a window. It is reported that the gunfight has now ended, and the situation is now under control.
Six civilians and four members of Afghanistan's security services have been wounded, police said. At least five attackers have been killed.
The Taliban have claimed responsibility for the attack, saying the police compound is a training facility "run by foreign military forces."
A Nato special force unit tasked with the training of Afghan police was at the scene but it has not been involved in police's response to the attack.
The operation has been carried out entirely by Afghan forces, Interior Ministry spokesman Sediq Sediqi said.
The attack is the second to hit the Afghan capital in less than a week. Five days ago, suicide bombers attacked the National Directorate of Security in central Kabul, killing one guard and wounding dozens more.
The Afghan government has been trying to persuade the Taliban to negotiate as Western troops are due to pull out of the country by 2014.