African Refugees March Out of Israel Desert 'Prison' in Protest at Asylum Laws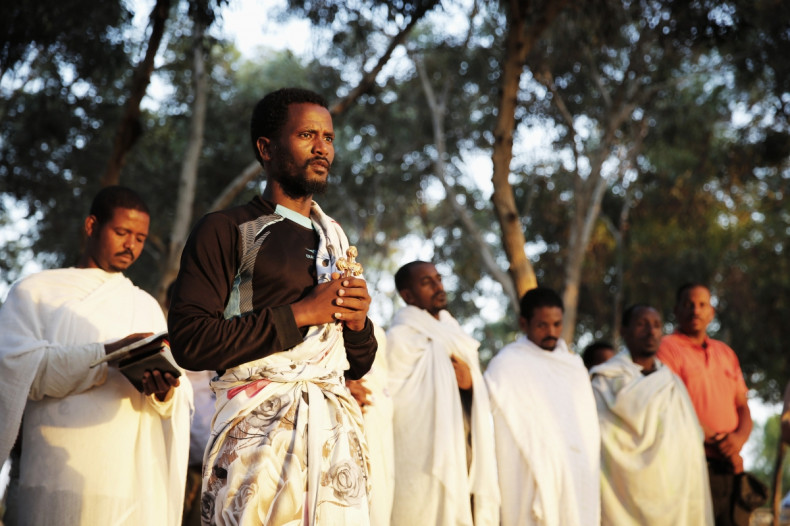 Around 1,000 African refugees have marched out of an open detention facility in Israel's southern Negev desert and camped near the border crossing with Egypt in an attempt to leave the country.
The asylum-seekers, mainly Eritreans and Sudanese, want to leave Israel because they are "sick of Israeli government asylum policy" of detaining migrants for an indefinite period at the Holot detention centre, Eritrean-born Hobtom, who is part of the protest, told IBTimes UK.
"We just want someone in the position to open the door and let us go through. We want to go out from Israel and we have nowhere to go," he said.
New Israeli legislation stipulates that those caught entering the country illegally could be jailed for up to a year, after which they are moved to a new detention facility.
Previous legislation, the Infiltration Law, allowed Israel to jail migrants for three years, pending a review of their refugee status, and set a 90-day deadline for detainees to be released.
It was overturned by the high court and replaced by a law that allows open-ended detention of migrants in a detention centre that can hold hundreds of people.
But the Holot detention facility, in the middle of the Negev desert in southern Israel, is a de facto prison according to Hobtom.
"In Holot there is no health care and you have to sign the entry papers three times a day. You're allowed to move only six hours a day," he told IBTimes UK. "It's true that you can move, but where? The centre is far from the cities, in the middle of the desert. I would rather be in a real prison.
"If you're sick you have no one to pay for you. When someone is sick and has to be taken to the hospital, the hospital calls Holot centre and they say that we have no health coverage. No one is taking care of us," he said.
The refugees had to stop 300m from the border for security reasons.
Illegal job-seekers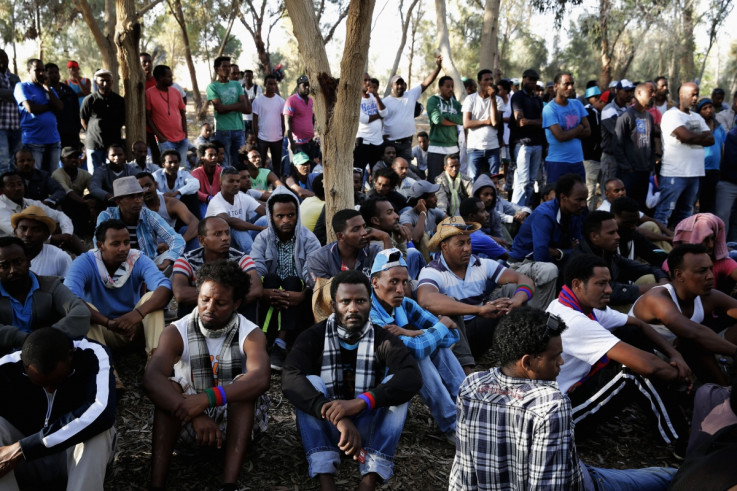 African asylum seekers gather for a morning meeting during an overnight protest after leaving Holot open detention centre in southern Israel's Negev desert
Reuters
Hobtom is one of the 4,000 people who leave Eritrea every month. He has been in Israel for six years, during which he was granted only conditional visas that had to be renewed every three months. The visa prohibits him from taking paid work, and he was forced to take temporary jobs on the black market.
Israel regards its 50,000 Sudanese and Eritrean migrants as illegal job-seekers. Data published by the Population, Immigration and Border Authority showed that only four applicants were granted refugee status in Israel in 2013, out of 2,593 applicants.
Israel also refuses to accept Eritrea's indefinite military service as a reason to ask for asylum, a reason that is accepted by other countries. In Eritrea, compulsory national service for adult men and women – which should be limited to 18 months – is prolonged indefinitely and keeps most young Eritreans "in perpetual bondage", according to Human Rights Watch.
As a signatory to the United Nations Convention Relating to the Status of Refugees, Israel cannot deport asylum seekers if they face danger in their countries of origin.