Microsoft's much-talked about personal digital assistant, Cortana, is now set to reach desktop computers in a full-fledged manner, starting with the Redmond-based company's most talked-about Windows Threshold that is tentatively codenamed Windows 9.
According to a Neowin report, Cortana will be available to desktop users running Windows 9 Threshold, in the form of an application.
The Neowin report also states that to communicate with the PDA, users can either type text (from the keyboard) or speak out their question to Cortana. This means that the Windows 9 Threshold, once official, should also offer users enhanced accessibility/voice input features which can be expected to be capable of not only grasping user input (voice), but also convey the grasped user input to Cortana.
Once Windows 9 goes official, users should be able to activate Cortana by just launching her custom-made app. Users should also notice the PDA's trademark circular symbol at the centre of a small window (exclusive to Cortana) that is expected to consume one-fourth of the desktop's (screen) real-estate.
Also, Cortana's famous 'typical dark' interface that is provided to users on Microsoft's Windows Phone 8.1 platform, should find itself migrating to the Windows 9 Threshold as well.
Functionality-wise, Cortana should aid desktop users in a variety of everyday tasks such as surfing the internet, tracking weather updates/flight status, custom search/navigation, reminders, friend list integration and many more day-to-day tasks.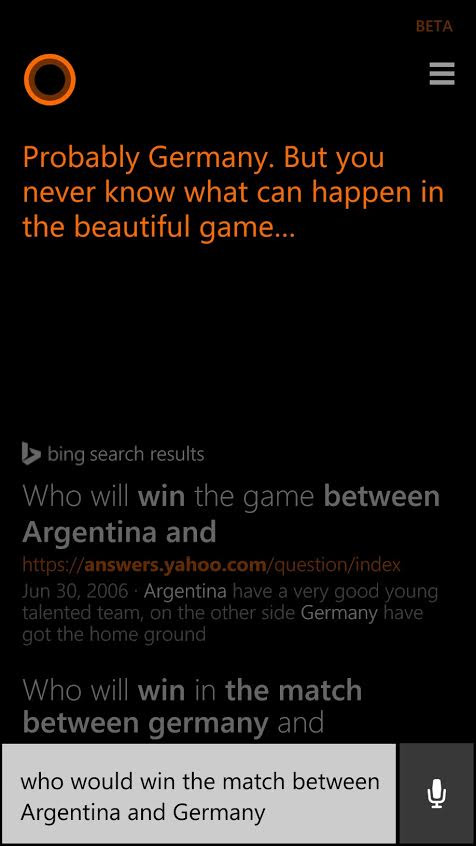 Currently, users resort to doing the above tasks with the help of various standalone apps (an app for each task). Once Cortana is officially integrated with the stable release of Windows 9, users should find themselves saving time by relying on the PDA, rather than having to spend time in downloading/installing multiple applications.
As of now, Cortana is still undergoing the various nuances of testing and evaluation, so there is a possibility that the PDA may not ship with the final stable release build of Windows 9 Threshold. However, the prospect of Cortana being released as a subsequent update by Microsoft looks bright at this point in time.
Cortana, once official (in all probability) within Windows 9, could be the USP of the OS itself along with the 'new Start Button' that Microsoft has reportedly built in.
Also, Cortana within the Windows 9 Threshold should compete with Apple's Siri that is also expected to make its way to future OS X OSes. A recent patent filed in the US Patent and Trademark office (by Apple) throws enough hints at the company's PDA reaching desktops after OS X Yosemite, or within the latter itself.
As of now, the Windows 9 Threshold is slated to be released in spring 2015. So, look out for both Cortana and the new Start Menu within the OS.