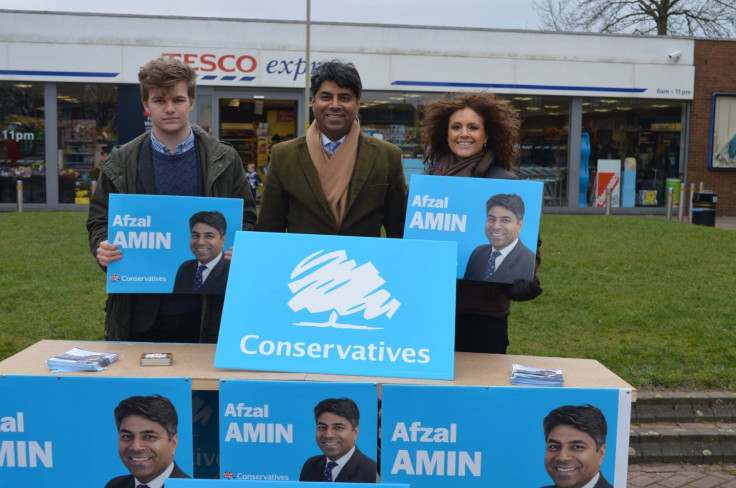 Afzal Amin has quit as Conservative candidate for Dudley North after being accused of allegedly plotting with the English Defence League (EDL) to stir up racial tensions in the West Midlands to win votes.
Amin was suspended after a secret recording apparently showed him holding meetings with ex-EDL leader Tommy Robinson.
The Mail on Sunday footage allegedly showed the former Army officer conspiring with the EDL to announce a march against a planned £18m ($26m) "mega-mosque" near the Dudley North seat he was contesting.
The plan then involved the MP defusing the row in a bid to win voters over.
Amin claimed the allegations were "inaccurate" and "part of a much wider story which has been grossly misrepresented".
The House of Commons candidate also said that he would make a "robust defence" at a Tory disciplinary hearing tomorrow (24 March).
"I have got to make my case on Tuesday to the Conservative Party and I want to make a robust defence of my actions and I want to ensure the party that I am a loyal party member and a party supporter," he said.
But the Tories have now issued a statement explaining that Amin had resigned as a candidate for the party with immediate effect.
"Amin is resigning as Conservative candidate for Dudley North with immediate effect," a Conservative Party spokesman said.
"Conservative Chairman Grant Shapps has welcomed Amin's decision and thanked him for his work in the past."
Anna Soubry, the Conservative defence minister, had called on Amin to stand down as a candidate over the weekend if the allegations were true.
"I would appeal, if there is any truth in this, to him then go now, hold your head up. Because obviously if this is right, this is dreadful," Soubry told the BBC's Andrew Marr show.
The claims will be an unwanted distraction for David Cameron and his party with less than 50 days to go before the general election in May.
"It's right that Amin has gone but what on earth took so long? Given the serious allegations involved it was obvious that Cameron should have expelled him immediately, instead he dithered until the candidate himself jumped before he was pushed," said Jon Ashworth, Labour's shadow cabinet office minister
"This deeply damaging episode has exposed a Conservative campaign in chaos and a prime minister paralysed by indecision."