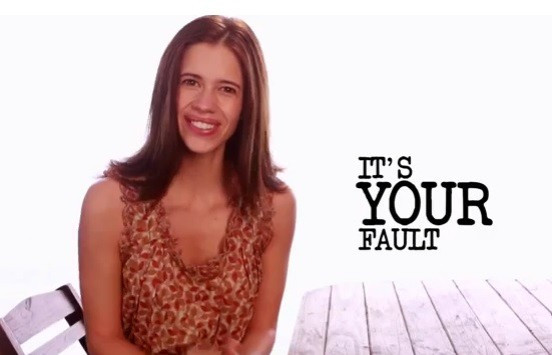 A satirical anti-rape YouTube video starring Bollywood actress Kalki Koechlin and TV presenter Juhi Pandey has been viewed over one million times in just a few days.
In the film, AIB365: It's Your Fault, the pair explain why women are entirely to blame for being raped.
It was created by All India Bak (AIB), a group of stand-up comedians including Rohan Joshi, Tanmay Bhat, Gursimran Khamba and Ashish Shakya in reaction to the high levels of violence against women in India and misconceptions over who is culpable.
Koechlin and Pandey tell how women taking on mobile phones, leaving their homes and wearing risque clothing all bring rape upon themselves - they show examples of provocative clothing, including an astronaut suit and a burqa.
"Ladies, do you think rape is something men do out of a desire for control, empowered by years of patriarchy? You've clearly been misled by the notion that women are people too. Because let's face it, rape is your fault.
"Scientific studies suggest that women who wear skirts are the leading cause of rape. Do you know why? Because men have eyes."
The film targets the culture of victim blaming. Pandey says: "Now some people might actually argue that the crime is committed by men and to these people I say, who gives birth to these men?
Amazing response
"Another way these women shamelessly propagate rape is by working into the night. Ladies, why work late and be independent? In fact, why work at all? That's what husbands are for. Fun fact, if he's your husband, it's not rape."
The women also point out that if women go to the police, they are often humiliated, with officers often either saying it was their fault for going out with men, or for going out without a man's protection.
Co-writer Joshi told the Times of India: "It's not what you would expect from a group of four funny guys, and that's just the point. Nothing at all, no part of this, is funny, and therefore we approached it in a different way.
"The response has been amazing, from the moment we posted the video till now. It is something that every person we know relates to and feels strongly about."
Pande added: "Yes, this video will only reach the English-speaking, 'sarcasm-understanding' young person, but at least it's out there. It's a drop in the ocean, but it is still a drop and I am glad to be have been a part of it."
Reactions to the video have been mixed, with some applauding the film and others criticising its message or not understanding it is satirical.