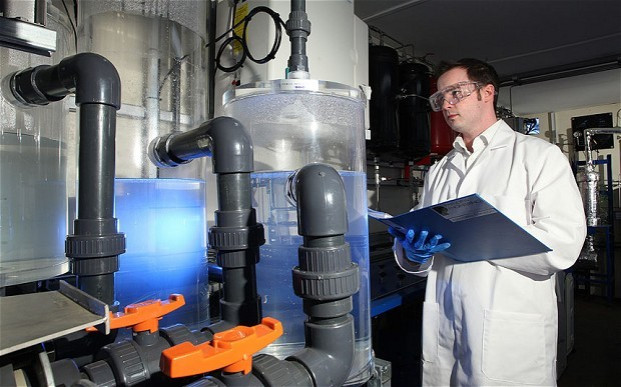 A British engineering firm has developed "air capture" technology that can create synthetic petrol using electricity and the carbon dioxide in the air.
Air Fuel Synthesis (AFS), a small company in the north of England, claims that it has used the revolutionary technology to make five litres of petrol.
Scientists at a refinery in Stockton-on-Tees, Teesside, mix carbon dioxide from the air with sodium hydroxide before electrolysing the resultant sodium carbonate to release pure carbon dioxide.
This reacts with hydrogen electrolysed from water to make a hydrocarbon mixture, which in turn is passed through a fuel reactor to create petrol.
According to company management, the fuel can be used in any regular petrol tank and, if renewable energy is used to provide the electricity, it could become completely carbon-neutral.
Peter Harrison, the company's chief executive, claimed that AFS planned to be producing petrol on a commercial basis using renewable energy by the end of 2014.
"We are converting renewable electricity into a more versatile, usable and storable form of energy, namely liquid transport fuels," he told the Independent.
"By the end of 2014, provided we can get the funding going, we can be producing petrol using renewable energy and doing it on a commercial basis."
The £1.1m project, which has been in development for the past two years, already has the backing of the Institution of Mechanical Engineers.
Industry experts hailed the breakthrough as a potential saviour of the world's energy crisis and a "game changer" in battle against climate change
At a London engineering conference, IMechE chief executive Stephen Tetlow described it as "exciting".
He said: "It has the potential to become a great British success story, which opens up a crucial opportunity to reduce carbon emissions.
"It also has the potential to reduce our exposure to an increasingly volatile global energy market.
"The potential to provide a variety of sustainable fuels for today's vehicles and infrastructure is especially exciting."
Tim Fox, the institution's head of energy and the environment also the innovation sounded too good to be true, it "ultimately has the potential to become a game-changer in our quest to avoid dangerous climate change."
"It uses well-known and well-established components but what is exciting is that they have put the whole thing together and shown that it can work,"he added.