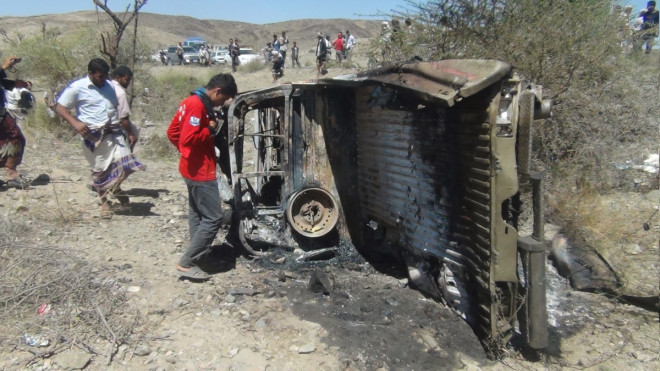 Yemen launched massive air strikes in al-Qaida holdouts in the southern and central parts of the country, killing at least 40 suspected members of the terror outfit over the weekend.
The US-assisted military operation was carried out after intelligence reports showed "terrorist elements were planning to target vital civilian and military installations", the country's defence ministry said.
Al-Qaida camps were targeted in three different strikes, and one of the targeted militants was a "leading and dangerous" militant within the ranks of al-Qaida in Arabian Peninsula (AQAP), the statement said.
"It's too early to tell how many militants were killed, but the number is at least a dozen," a government official told CNN.
It is not yet disclosed how many and, if any, high-profile operatives were targeted as well.
"These strikes destroyed the training facility completely and killed both Yemeni and foreign members," said Yemen's state news agency Saba.
The terrain was rough and inhospitable and that it would have been very difficult for state troops to take on the militants on ground without facing heavy casualties, government sources said.
However, an official told CNN on condition of anonymity that the way information is released in the local media may be part of propaganda against the government.
"At this hour, the numbers of militants being reported as being killed keeps changing, and we still aren't sure if any civilians have been killed or wounded in these strikes."
"Yemenis are smart enough to doubt initial reports of this type," the official said. "If this does turn out to be exaggeration, it will make the people here trust their government even less than they do and fuel growing anger over the drone programme."
The AQAP have been in control of large areas in Yemen and targeted tourists and diplomats, apart from state forces.