Key Information
Air Asia flight QZ8501 was travelling from Indonesian city of Surabaya to Singapore
There were 162 people on board - 155 passengers and seven crew members
Nationalities of passengers: 1 Singapore, 1 Malaysia, 3 South Korea, 1 United Kingdom, 149 Indonesia
Nationalities of crew: 1 France, 6 Indonesia
The plane had asked for a change in flight path due to bad weather, according to AirAsia

Flight lost contact with aviation authorities 42 minutes after takeoff while cruising in Indonesian airspace.
All times are in GMT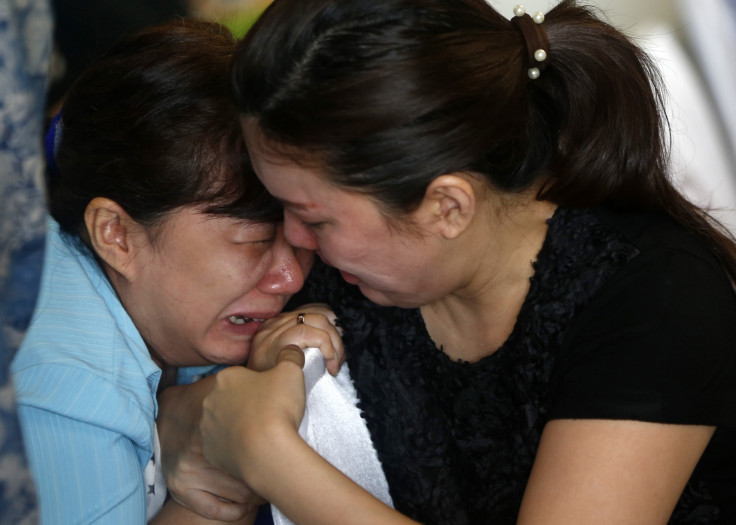 12:00 Following the announcement that the search for the flight has been suspended for a second night, our coverage of the ongoing crisis has come to a close. We will be back tomorrow morning with more updates.
11:45 The air search off Indonesia for missing flight QZ8501 has been suspended for a second night.
11:40 Indonesian Air Force spokesman Hadi Tjahjanto has told AFP that the search for the flight will now be situated in the Java Sea where an oil patch has been spotted off Belitung Island.
"We are making sure whether it was avtur (aviation fuel) from the AirAsia plane or from a vessel because that location is a shipping line," he said.
11:12 According to Indonesian officials, objects spotted by Australian search planes - and earlier believed to be from flight QZ8501 - were not from the missing plane.
I'm now handing over the live blog to my colleague Jack Moore.
10:00 – Indonesian aviation authorities say six flights were flying around AirAsia QZ8501 when the plane disappeared from all radars.
"At the same time, six planes were around the missing AirAsia flight. At that time, the AirAsia flight was at 34,000 feet and asked for permission [from air traffic control] to fly higher, to 38,000 feet" Bambang Cahyono, the chief of state-run navigation service AirNav Indonesia, tells reporters.
As another plane operated by Garuda Indonesia airlines was cruising at an altitude of 38,000 feet, the missing flight's request to fly at that altitude could not be upheld, Bambang adds.
It was earlier revealed flight QZ8501 asked for change in altitude before losing contact.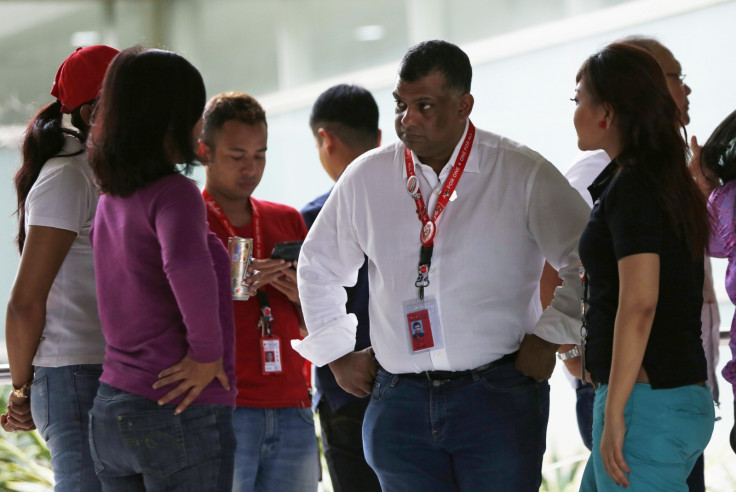 09:40 – Meanwhile, as uncertainty mounts over the whereabouts of missing AirAsia flight, IBTimes UK, looks back at the disappearance of Malaysia Airlines flight MH370 - one of the biggest aviation mysteries of all time. Here's my colleague Samantha's news report.
09:25 - Kalla adds Indonesia should be "prepared for the worst" though there can be hopes for survivors.
09:15 - Indonesian vice president Jusuf Kalla visits grieving families consoling them. Kalla also addresses reporters assuring the flight would be found soon.
He told a press conference: "This is our biggest search operations that we have ever done."
"Searching at sea is not as easy as that on land. But we have faced similar difficulty in the past, the Adam Air crash, which by God's help we finally found it."
"Up to now, there is no sign of wreckage that has been spotted. No indication towards that yet."
09:00 – Angela Anggi Ranastianis, 25-year old daughter of QZ8501 pilot Iriyanto, sends out a heart-touching message asking her father to return.
"Papa, come home, I still need you. Bring back my papa. Papa, please come home," she wrote after the plane went missing.
08:50 – Singaporean vessels RSS Valour and RSS Supreme arrive at search zone, says country's defence minister Ng Eng Hen.
08:45 – It is revealed German firm Allianz is the lead re-insurer to the missing AirAsia jet. Incidentally, Allianz provided insurance cover for both the Malaysia Airlines jets MH370 and MH17 which also underwent disasters in separate episodes earlier this year. Rochan's report.
08:20 – Indonesian weather agency says 30-31 Dec will have perfect weather conditions in the search zone to find the missing airliner.
Andi Eka Sakya, chief of the meteorological agency tells reporters: "December 30 and 31 will have perfect weather for the search and rescue teams to try and locate the missing aircraft. "The waves are forecast to be no higher than 1.5 meters on those dates, making the conditions conducive to carrying out a search mission at sea."
08:15 – Indonesia is set to use underwater beacon detector given by Singapore to locate the missing flight's recorders.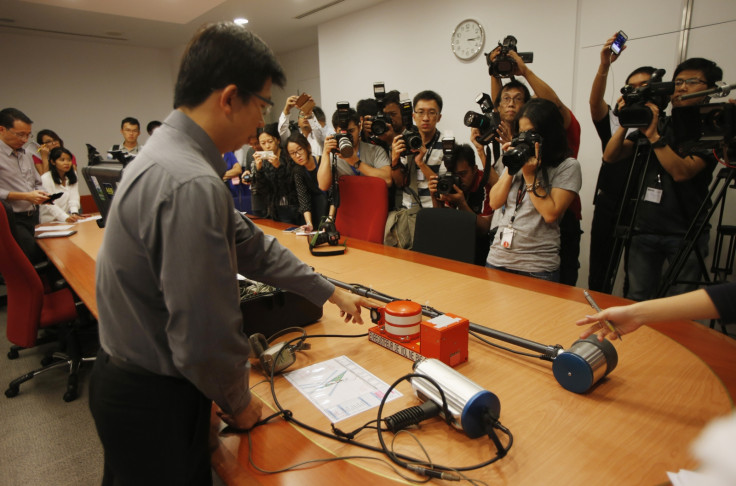 08:00 - Here's the image previously tweeted by flightradar24, keeps track of commercial planes flying across the world, when the missing AirAsia flight lost contact.
07:50 – Indonesian authorities earlier detected a "weak signal" in the region but ruled out it is from the missing flight.
07:45 - According to the Associated Press, the Indonesian official Putranto adds: "However, we cannot be sure whether it is part of the missing AirAsia plane. We are now moving in that direction, which is in cloudy conditions."
07:30 - Indonesian authorities are yet to confirm whether the sighting of the objects are that of missing AirAsia flight. The objects are believed to have been spotted withing the search zone.
07:10 – The detected objects are in the waters 160kms south west of Pangkalan Bun which will be about 1,100km from the last known location of the missing flight.
07:05 – Australian aircraft finds objects suspected to be related to missing aircraft. The surveillance Orion flight operated by the Australian forces detected objects as authorities continue to probe.
"Earlier Orion aircraft detects something but not sure what something is, now our planes from the north shifted to the location (it detects something)," Commander of Operations One Marsda Jakarta Dwi Putranto tells reporters.
07:02 – Inevitably, comparison with earlier air disasters arise quickly after the missing of AirAsia flight. However there are key differences between the disappearances of Malaysia Airlines MH17 and AirAsia QZ8501, Arjun's report.
06:15 –Civil Aviation Authority of Singapore (CAAS) releases a statement which reads: "Indonesia has accepted Singapore's offer of two teams of specialists and two sets of underwater locator beacon detectors to assist in locating the flight data recorders of the missing Indonesia AirAsia aircraft, QZ8501."
"The four specialists from the Singapore Ministry of Transport's Air Accident Investigation Bureau and their equipment are ready to be deployed, pending the Indonesian authorities' activation."
06:10 – Concerns arise over why the flight's Emergency Locator Transmitter (ELT) not being activated. The ELT's battery could last up to 48 hours and helps in locating the aircraft it had crashed.
Former Malaysia Airlines chief pilot Ahmad Huzlan Hussain tells Bernama daily: "If the aircraft crashes, the ELT can still function, but it will depend on its condition after the crash as the ELT is usually installed in the cockpit, at the door or at the tail of the aircraft."
"However, right now, the flight is missing without any signal from either its transponder or the ELT. So, we are not sure whether it has crashed or not,"
05:45 – AirAsia likely to retire flight code QZ8501 after the missing flight. The airline's chief executive Sunu Widyatmoki said: "We have forwarded our suggestion to the headquarters, but we are still waiting for the approval and coordination from the headquarters."
Kunu however insists the immediate plans are to attend the bereaved families.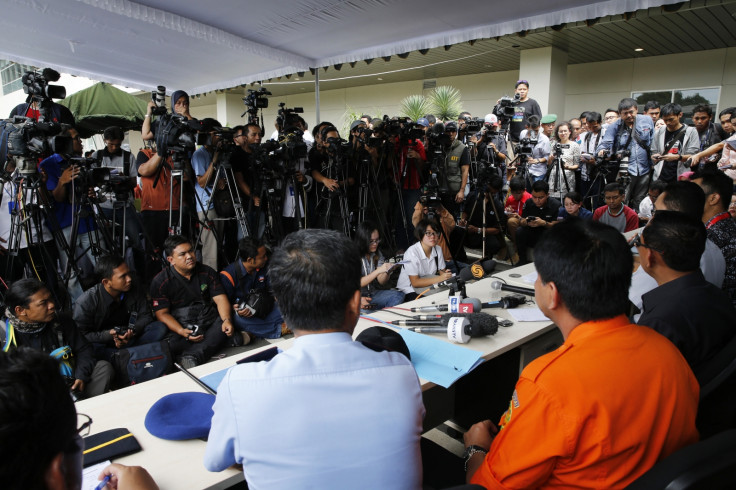 05:20 – AirAsia CEO Tony Fernandes heading back to Surabaya to be with families of the passengers.
05:15 – AirAsia releases updated statement on its Facebook page. It reads as follows.
"AirAsia Indonesia has received confirmation from The National Search and Rescue Agency Republic of Indonesia (BASARNAS) that an international search and rescue mission from Indonesia, Singapore and Malaysia has been mobilized in the search of flight QZ8501. The mission in Surabaya has resumed today at 06.00 AM LT (GMT+7). "
"AirAsia Indonesia continue to support these efforts and has been actively cooperating with the search and rescue authorities."
"AirAsia Indonesia's primary focus remains on the families and Sunu Widyatmoko, Chief Executive Officer of AirAsia Indonesia is currently stationed at the family centre in Surabaya. We have been keeping the families updated on the search and rescue efforts as well as provide emotional support. Another group of AirAsia officials are providing the same to the families based in Singapore."
"An emergency call centre has been established and available for families seeking information. The number is+622129270811 or 031-8690855 or 031-2986790(Surabaya)."
"We will release further information as soon as it becomes available and our thoughts and prayers are with those on board QZ8501."
05:00 – China offers help in search operations. A statement from Beijing's foreign ministry reads: "The Chinese side has already said to Indonesia that it is willing to urgently send aircraft and ships to participate in search and rescue, and will provide other aid according to Indonesian needs."
04:55 – Scores of relatives and friends of passengers are already in the holding room of Singapore's Changi Airport with more people expected to travel from Surabaya to Singapore today as well.
04:50 – Here's my colleague Jayalakshmi's report suggesting the bad weather is most likely the reason for the disappearance of aircraft.
04:40 ­– Australian Prime Minister Tony Abbott talks to 2GB radio over the missing aircraft. He says:
"This is not a mystery like the MH370 disappearanceand it's not an atrocity like MH17."
"There's no mystery here. It struck what appears to be horrific weather and it's down. I'm sure the aviation experts will be putting their heads together to ensure we don't just lose planes."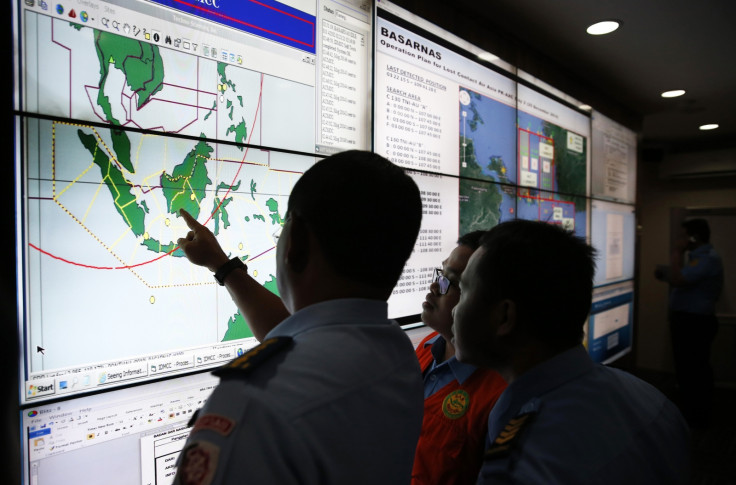 04:35 – Malaysian transport minister Liow Tiong Lai says the country is sending three vessels and three aircraft to beef up the search and rescue measures, led by Indonesia.
04:30 – The ongoing search and rescue measures have been named 'Operation Rubber Duck' by the Indonesian authorities. The name begins to attract lot of drubbing in Twitter already.
04:20 - The shares of Malaysia-based airline plunges as much as 13% when the Kuala Lumpur market opened on the first day of trading after the flight went missing.
04:15 – In the earlier press conference held by Indonesian officials, Transport Minister Ignasius Jonan promised AirAsia's operations will be reviewed.
"Much will be reviewed in terms of its business operations and in terms of air transportation business, so that there are safety improvements," Jonan said.
04:00 – Airbus sends two experts to Jakarta to assist the ongoing investigation in finding the single-aisle jet operated by the budget airline.
03:50 - AirAsia CEO Tony Fernandes tells reporters: "Until today, we never lost a life."
Assuring that the airline has not lost a life in its 13-year journey, Fernandes vows to cooperate with the investigation. "We will do all that is necessary, we will cooperate."
"No airline can guarantee 100% safety."
He insists the aircraft underwent all the necessary pre-flight procedures before takeoff and was certified airworthy.
03:45 – Malaysia and Singapore are also assisting in the search operations. Australia has also assured support if needed.
03:40 – Ships and planes scouring Indonesian waters to find the missing plane.
In a press conference, Bambang Soelistyo, the chief of Indonesia's National Search and Rescue Agency told reporters: "Based on the coordinates given to us and evaluation that the estimated crash position is in the sea, the hypothesis is the plane is at the bottom of the sea.
"That's the preliminary suspicion and it can develop based on the evaluation of the result of our search."
03:30 – Welcome to IBTimes UK's live coverage of all the happenings surrounding the disappearance of Air Asia flight QZ8501. The search for the missing flight resumes on the second day after bad weather forced the rescue measures to be suspended overnight.