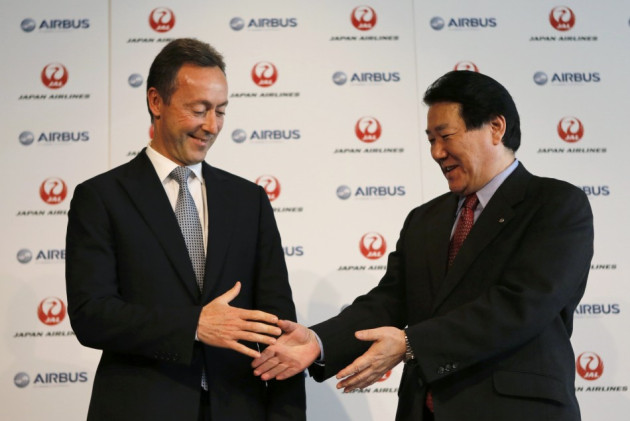 European aircraft maker Airbus has won a multi-billion-dollar order from Japan Airlines (JAL) for the first time, ending decades-long monopoly of rival Boeing in the Japanese commercial aeroplane market.
JAL has ordered for 31 A350 planes valued at about $9.5bn (£5.9bn, €7bn) at list prices. Having completed its maiden flight earlier in 2013, the A350's first variant is set to enter service in 2014. The Boeing's 787 Dreamliner competitor's largest model is slated for late 2017.
JAL and Airbus announced the deal in a midday news conference involving Airbus CEO Fabrice Bregier and JAL President Yoshiharu Ueki.
Boeing's Territory
Japanese airlines including the biggest ones, All Nippon Airways (ANA) and JAL, had been relying heavily on US-based Boeing for their aircraft needs. While Boeing jets constitute 78% of JAL's fleet of 214 planes, they make 84% of ANA's fleet of 238 planes.
Japan's preference for Boeing coincides with its large amount of component supplies to the US company. Japanese companies including Mitsubishi Heavy Industries, Kawasaki Heavy Industries and Fuji Heavy Industries, designed and supplied 35% of the structure of Boeing's flagship 787 Dreamliner.
Japanese airlines have been the biggest clients for the 787 model, with ANA being the first airline to order the aircraft, the entire fleet of which had been grounded earlier this year due to faulty battery system.
The Dreamliner project was delayed for 3.5 years, harming the reputation of Boeing among Japanese airlines. On top of that, the battery glitch at the 787 model might have raised concerns.
ANA said in September that it would take into account the risk of delivery delays when choosing between the A350 and Boeing's yet-to-be-launched "777X".
Airbus' Win
Taking advantage of Boeing's troubles, Airbus has been pushing its aircraft models, especially the profit-making long-haul jets, in the Japanese market. Its market share in Japan has increased steadily as low-cost carriers chose to lease its plane.
Japanese carriers flew 43 Airbus jets at the end of 2012, up from 36 a year earlier, according to the Japan Aircraft Development Corp. However, the majority of them are short-haul models.
Japanese discount carrier Skymark Airlines earlier ordered for six A380s, being the first airline to order wide-body jets from Airbus. The airline is due to start operation of its first double-decker in 2014.
Airbus also engaged in negotiations with ANA and JAL over its flagship A350-1000 model. While JAL is expected to place its order with Airbus, ANA is yet to decide on its manufacturer for next-generation planes.
Airbus currently has more worldwide net orders than Boeing. At the end of September, Airbus had 1,062 net orders, higher than Boeing's 890.