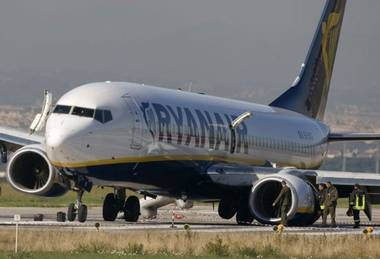 Twelve budget airlines have agreed to include debit card charges previously hidden till the last minute of a transaction in their headline prices rather than have them appear at the end of the booking process.
The companies - including Ryanair and easyJet - agreed to absorb debit card surcharges and will make credit card surcharges more transparent in the headline figure following an investigation by the Office of Fair Trading after complaints from consumer body Which?
Aer Lingus, BMI Baby, Eastern Airways, Flybe, German Wings, Jet2, Lufthansa, Thomas Cook, Thomson and Wizz Air have also agreed to the changes.
The government has considered making all airline carriers follow suit.
The £6 administration fee charged by Ryanair - which can sometimes hike by a third the price of a ticket at the low-cost airline - will be included in the advertised headline rate by 1 August.
Eastern Airways, easyJet, Flybe, German Wings, Lufthansa, Thomas Cook, Thomson (TUI) and Wizz Air have already made changes to their pricing structure.
The investigation by the OFT was launched after Which? magazine launched what they described as a 'super-complaint' against airline companies who incorporate "rip-off" card surcharges in March.
The hidden charges are estimated to cost passengers more than £300m a year.
The UK Treasury had previously planned to crack down on "excessive" credit and debit card surcharges and hopes to have the practice stamped out by the end of 2012.
Which? chief executive Peter Vicary-Smith said: "Over 50,000 people supported our campaign to end rip-off surcharges so it's good news that debit card surcharges will be displayed in the headline price of flights - as long as the airlines don't use this as an excuse to push up their prices.
"It's also important that credit card charges are clearly displayed throughout the booking process and the OFT should make sure that all companies are taking these steps, not just airlines.
"We're pleased that the government has said they are sticking to their original timetable to ban excessive card surcharges by the end of the year."
Clive Maxwell, the OFT's chief executive, said: "This is a great outcome for the millions of people who buy flights online. It is important that the cost presented when they search for a flight is realistic and that they are not surprised by extra charges. Otherwise, it is harder for them to shop around for the best deal."
When the investigation was launched Ryanair spokesman Stephen McNamara released a less than dignified response:
He said: "Before making super-duper complaints the clueless clowns at Which, Who or What magazine should conduct some basic research.
"Ryanair does not levy any credit or debit card payment 'surcharges'. Even our administration fee is avoidable by passengers who use our recommended MasterCard Prepaid.
"If it wasn't for dentist waiting rooms or doctors' surgeries it is doubtful whether anyone even reads the useless and frequently inaccurate Which, Who or What magazine."
Ticketing agencies for bands and shows are known as one of the more prime offenders for card surcharges. Ticketmaster's hidden charges include an "order processing fee" on top of a traditional service charge, which vastly increase the overall price from the headline price.