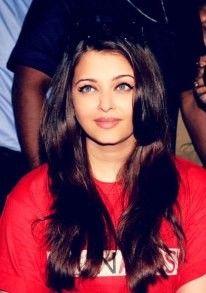 Aishwarya Rai Bachchan marked World AIDS Day by visiting a hospital in Mumbai, in her capacity as the United Nations HIV/AIDS ambassador. The glamorous Bollywood actress was appointed as an international goodwill ambassador for the Joint United Nations Programme on HIV/AIDS (UNAIDS) in September.
The 39 year old actress talked with HIV-infected women and children during her visit to Sion Hospital in Mumbai on 1 December. Bachchan specially stressed on providing advanced access to Anti-Retroviral Therapy (ART) to HIV-infected pregnant women to prevent mother-to-child infection. Aishwarya Rai, who was dressed casually in a red T-shirt and jeans, met with and talked to women receiving ART treatment.
"The women I spoke with today will have babies who are safe from HIV because they have access to the medication required. I would like to emphasise the importance of all pregnant women going for HIV testing as it is important to have access to treatment if required," Aishwarya Rai, whose role as UN envoy is to help raise awareness of HIV in children across 22 countries, told media.
According to World Health Organisation's (WHO) estimate, more than 90 percent of all new HIV infections among children are reported from India while Sub-Saharan Africa accounts for most HIV cases worldwide.
The Global Steering Committee of the World AIDS Campaign aims to help provide ART to nearly 15 million people living with HIV by 2015.
"The numbers (of AIDS patients) have come down considerably by the latest statistics and that's a very positive sign; in fact, the programme in India has been recognized as a success, which is encouraging to hear," Bachchan said, adding, " However, there is a lot of work that needs to get done and the efforts will continue."