Somalia's President Mohamed Abdullahi Mohamed, also known as Farmajo, on Thursday (11 May) said the country's forces needed bigger and modern weapons to fight the better-equipped terrorist groups. He also urged world leaders to lift the long-existing arms embargo on the country.
He explained that light weapons like the AK-47 rifles currently being used by their security forces are proving inadequate when dealing with heavy equipment used by al-Shabaab militant group.
The president was addressing an international conference on security and humanitarian issues concerning Somalia in London on Thursday (11 May). UK Prime Minister Theresa May and UN Secretary-General Antonio Guterres were also present at the one-day conference.
"For far too long, our security forces and terrorist groups have been fighting using the same type of light weapons - mostly AK47s. The longstanding arms embargo on Somalia severely restricts our ability to procure heavy weapons," Farmajo said, referring to the restriction imposed by the United Nations Security Council in 1992.
"Time has come for Somalia to be able to get access to qualitatively better equipment and weapons than the terrorists," he added.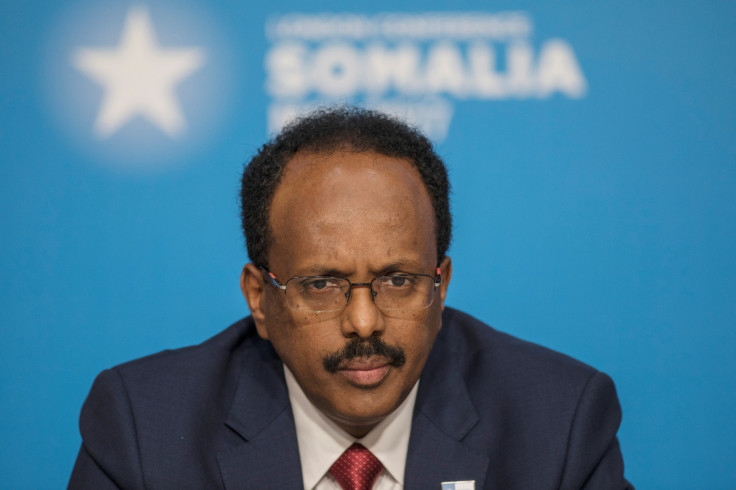 The new president, who assumed office in February, launched a major crackdown on the militant group in April, deploying large number of government troops in the fight. With the help from more than 20,000 African Union soldiers, Somali soldiers have already retaken many major towns and cities in the country from al-Shabaab, but the militants continue to launch counter-attacks in southern Somalia and capital Mogadishu, Al Jazeera reported.
At the conference, the president presented a plan on how to deal with terrorism and other security threats to the country and simultaneously improve economic and social conditions of the citizens.
Prime Minister May called for united efforts in dealing with challenges faced by the African nation.
"If Somalia is a foothold for terrorist groups like al-Shabaab and [Isis], if global trade is hijacked by pirates in the Indian Ocean, or if millions are continually displaced in a desperate bid to escape poverty and drought, the impact of instability in Somalia is felt across the whole region and the wider world," May said.
"But what we have seen over the last five years is that when we work together on these issues we can make progress.
"I am proud of the role that Britain has played in this work.
"As a global Britain, we will continue to drive co-ordinated international efforts that increase global security and protect our values around the world," May added.