Chinese navy ship that foiled pirate attack on bulk carrier hands over suspects to Somalia
The 3 pirates were trying to hijack a Tuvalu-flagged OS35 merchant ship travelling from Malaysia to the Yemeni city of Aden.
Three Somali pirates who were suspected of attempting to hijack a cargo ship last month have been handed over to Somali authorities by a Chinese navy ship on Friday (5 May).
A joint operation by the navies of India and China thwarted an attack by suspected Somali pirates on a merchant ship in the Gulf of Aden. The Tuvalu-flagged bulk carrier OS35, was travelling from Kelang in Malaysia to the Yemeni port city of Aden on 8 April when it was attacked.
The three pirates, including a local pirate leader known as Aw Kombe, are now reported to be in the custody of security officials in the semi-autonomous northern region of Puntland.
"A Chinese navy ship handed over three pirates to Puntland today," Reuters cited Ahmed Saiid, the deputy director of maritime police forces in Puntland as saying.
The three suspects will be tried on piracy-related charges, Colonel Yasin Ali Nur, commander of security forces at Red Sea port of Bosaso told VOA Somali.
"These three prisoners, their weapons, will be kept here at the prison at the port until they are transferred to the central prison, until they appear before a court," Nur said.
Kombe was reportedly involved in up to 26 hijackings, according to Abdimajid Samatar, director of Regional Ministry of Ports and Marine Transport – the department that overseas anti-piracy activities in the Puntland region in Somalia.
Kombe said he and the two other pirates entered the OS35 bulk carrier in an attempt to hijack it. However, the trio got into trouble when the crew of the ship, including the captain took refuge in the ship's strong room in line with established safe shipping operation procedures. The crew, comprising of 19 Filipinos, sent a distress call from safety room, which was responded by four Indian navy ships that were sailing nearby.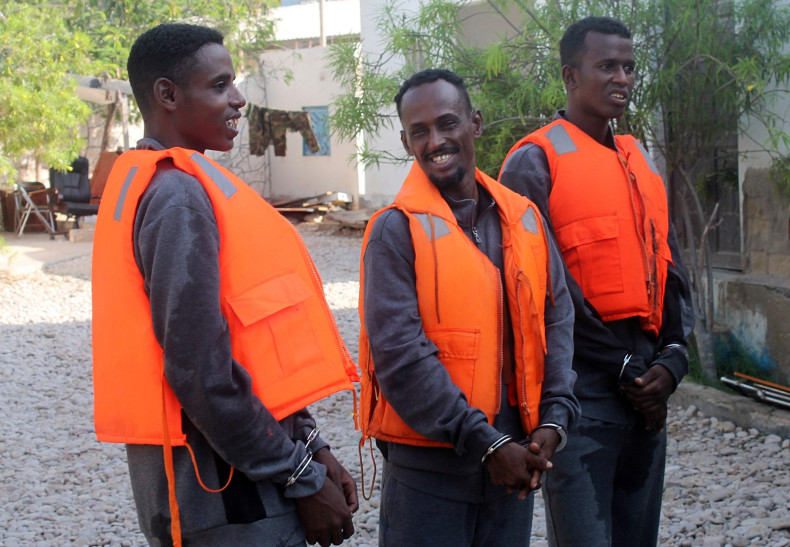 In a bid to avoid getting caught by the Chinese navy, which was being supported by the Indian navy, Kombe said he and his team hid on the ship.
"I was sleeping 12 hours throughout the night. The next day, they [the Chinese navy] heard a bit a of noise. They find out where we were hiding, then they apprehended us," he told VOA.
"I'm back home, the sight is pleasant, my mind is good, I'm back with my people, I'm not missing anything," he added.
The attempted hijack of OS35 was reported to be the latest in a string of attacks after years of silence by Somali pirates.
Piracy off Somalia's coast has declined in recent years. At its height in 2010-2011, piracy had cost the global economy $7bn (£5.4bn) a year in increased trade expenses. Pirates were attacking tens of ships every month and claimed millions of dollars as ransom for their release. More than 1,000 hostages were also taken captive by the pirates during that period.