French Spiderman Conquers France's Tallest Skyscraper: A Look at his Other Daredevil Climbs [SLIDESHOW]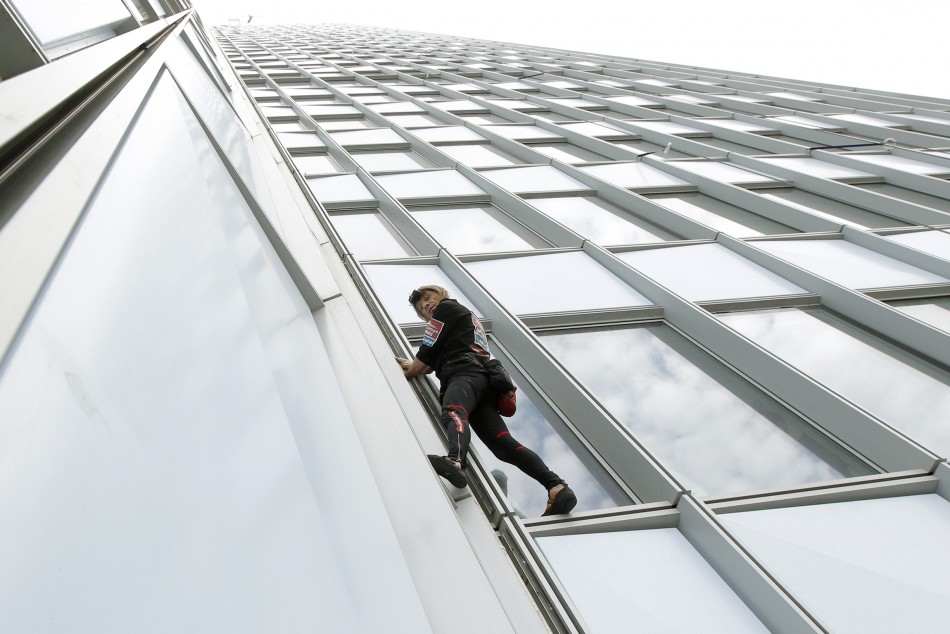 Alain Robert, the self-styled French Spiderman climbed the tallest building in France, with the "permission of its owners," a first in his career on Thursday.
Robert scaled the First Tower in the La Defense business district, west of Paris with bare hands coated in talcum powder and wearing a pair of shoes. He took roughly one and a half an hour to reach the top of the 758 ft (231-metre) high tower.
Instead of being arrested as was the case previously, he had been applauded by his admirers and curious onlookers and was greeted with a cocktail party at the ground level.
"I knew for sure that I was going to do it. I know that nothing's going to stop me. Sometimes I may be even afraid about me, because I know no matter (what), I will be doing the ascent and I did it," Reuters quoted Robert as saying after the completion of his ascent.
Robert has more than 100 climbs in his record spanning his 15-year career without any support equipment.
According to the extreme climber, he is not scared while scaling the heights.
"I really don't have time to be afraid, I really have other things to do," the Associated Press quoted him as saying. He describes his job as the best one in the world.
Some of the the skyscrapers he climbed include New York Times building in New York, Burj al Khalifa in Dubai, Hang Seng Bank headquarters at Hong Kong, one of the towers of Petronas Twin Towers in Kuala Lumpur, InterContinental Hotel Phoenicia in Beirut .
"Climbing is my passion, philosophy of my life. Although I suffer from vertigo, although my accidents left me disabled up to 66%, I have become the best solo climber," reads his website.
Take a look at the extreme climber during his daredevil acts.
© Copyright IBTimes 2023. All rights reserved.