Liverpool legend Alan Hansen believes the time has come for David Moyes to leave Goodison Park and, with a number of top clubs likely to be in the market for a new manager in the summer; the Scot could have a number of potential suitors at the end of the current campaign.
Andy Carroll's late header sent Liverpool through to the FA Cup final and ensured Moyes' miserable record against his Merseyside rivals continued. Everton's FA Cup semi-final hoodoo against their Liverpool neighbours extends back over 100 years; with the Toffees last victorious in the 1906 semi-final.
Four times they have met in the last-four since - 1950, 1971, 1977 and 2012- and three times they have faced off in a final - the 1984 Milk Cup, and the 1986 and 1989 FA Cups - and Liverpool have won every one.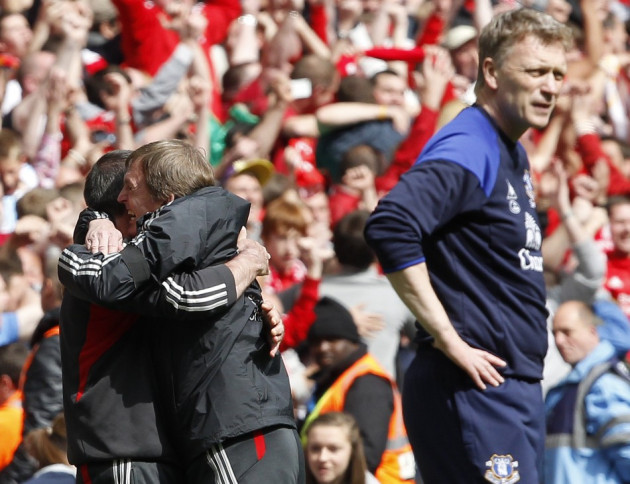 In a decade as Everton boss, Moyes has failed to break Liverpool's hegemony in their encounters, with the Scot yet to taste victory in 11 visits to Anfield. And with his 49th birthday approaching next week, BBC pundit Alan Hansen considers it inevitable that he will leave Everton before the start of next season.
"Even if Everton had won the FA Cup this season, I don't believe it would have been enough to keep David Moyes as manager at Goodison Park beyond the end of this campaign," the former Liverpool defender told the Telegraph.
"If he goes, Moyes will not be deserting a sinking ship. He has been loyal, committed and dedicated throughout his decade at Everton, but it really is time to move on.
"That's why this summer seems to be the right time for him to take on a new challenge elsewhere if a top job comes up. He has the track record and is a young man in the managerial stakes and somebody with his career still ahead of him."
The unwelcome truth for Moyes is that he will probably never get a better chance to break his Liverpool-jinx than in the opening half-hour at Wembley on Saturday. Tactically outmanoeuvred and run-ragged by a galvanised Everton side, Liverpool can rarely have underperformed so badly in an FA Cup tie as they did in the first hour, yet somehow they emerged victorious.
Nikica Jelavic took advantage of a mix-up between Jamie Carragher and Daniel Agger to give Everton the lead midway through the first half - but a defensive error just after the hour gave Liverpool a lifeline and Carroll's header secured their passage to a second Wembley final this season.
Despite taking the lead, Everton never threatened to increase their advantage thereafter and Sylvain Distin's underhit backpass provided a fitting snapshot of Moyes' reign at Goodison Park. Underfunded and constantly flirting with the spectre of administration, the fact that Moyes has been unable to take Everton to silverware of build a team capable of challenging for the title "is more the club's problem than his." Their inability to compete financially with the Premier League's elite has been a constant source of frustration over the last ten years and has dogged Moyes' time as manager.
Without a trophy for 17 years it is too early to tell whether Saturday's failure has impacted the prospects of Bill Kenwright, the chairman, securing Moyes on a new contract when his current deal enters its final 12 months this summer. But if he moves on, Hansen believes the former Preston manager's track record ensures he will not be short of suitors.
"The question for Moyes, however, is where would he go next to take his managerial career on to the next level?" Hansen said. "Chelsea are looking for a new manager, Manchester City could be and, if Harry Redknapp gets the England job, Tottenham will be looking for a new man at White Hart Lane.
"But for whatever reason, when the likes of Chelsea and City make managerial appointments, they tend to look abroad for rising stars or people with a successful track record away from the Premier League.
"Sooner or later, those clubs might start to look at the long-term and build the club up because the ultimate barometer of success is Sir Alex Ferguson at Manchester United because he has been at Old Trafford for about 100 years!"
Hansen added: "But if Redknapp does leave Tottenham, then you would have to suggest that Spurs is a real possibility for Moyes. You hear names like Brendan Rodgers being suggested in connection with Tottenham but, while he has done a terrific job at Swansea, he is in his first season in the Premier League.
"Moyes has the experience and the ambition to take on a big job, however, and that will eventually be bad news for Everton. But when he does walk away from Goodison Park, he will do so with his head held high, regardless of his lack of silverware during his 10 years.
"His real achievement in keeping the club on an even keel will only be appreciated fully when he has gone."