An earthquake measuring 7.5 on the Richter scale has struck off the coast of Alaska, according to information from the United States Geological Survey (USGS). It appears the epicentre of the quake, which occurred at 8.58:19 GMT, was at 55.292°N 134.728°W and at a depth of 9.6km (6 miles). The nearest town is Craig, which is 103km (approx 60 miles) away. Initial reports from the USGS had pegged the quake at a magnitude of 7.7.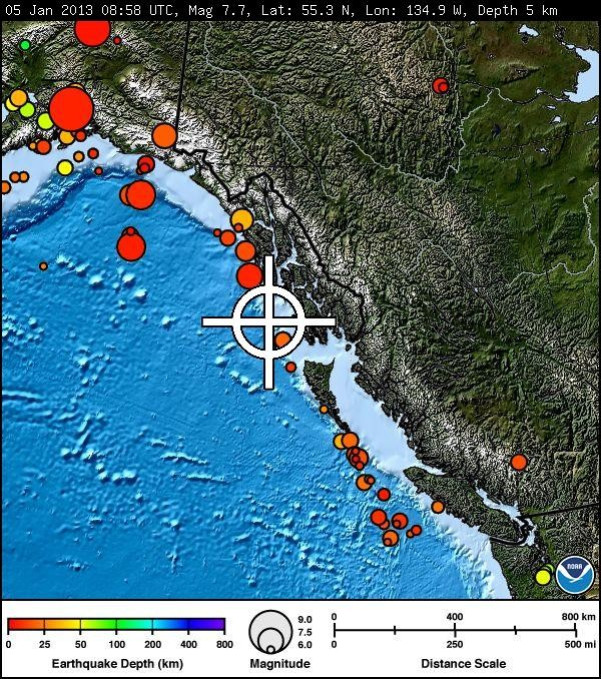 The USGS reported a second quake, measuring 4.7 on the Richter Scale, about 30 minutes later. The aftershock was located at 55.541°N 135.252°W, which places it marginally closer to the town of Craig.
There have been no immediate reports of casualties or damage. The Pacific Tsunami Warning Center (PTWC) has indicated there is no threat of a tsunami at this time but has issued a regional warning for the section of the Alaskan coast closest to the epicentre.
The PTWC bulletin reads:
"The West Coast and Alaska Tsunami Warning Center has issued a regional tsunami warning and/or watch and/or advisory for other parts of the Pacific located closer to the earthquake. Based on all available data there is no destructive tsunami threat to Hawaii. However some coastal areas in Hawaii could experience small non-destructive sea level changes and strong or unusual currents lasting up to several hours."
The West Coast and Alaska Tsunami Warning Center 's bulletin also indicated a tsunami warning for coastal areas of British Columbia and from the northern tip of Vancouver Island in British Columbia to Cape Suckling in Alaska, about 75 miles southeast of Cordova, according to a CNN report. The report added that the tsunami watch included all areas up to the Washington-British Columbia border, the bulletin said.