John Aldridge is one of Liverpool's most prolific strikers of all time, having scored 50 goals in just 83 games for the club in the late 1980s. Now, in his first weekly column for IBT, the former Republic of Ireland international tells us why Raheem Sterling should be praised - and why Liverpool is Mario Balotelli's last chance.
People might criticise Raheem Sterling for asking to sit out England's victory in Estonia on Sunday, but I think It was really brave of him. It wouldn't have happened in my day. If any of us, be it Beardsley, Barnes, myself or whoever, had felt like that, we'd have thought to ourselves "I'm knackered, but I'll play." And we wouldn't have played well. Sterling should hold his hands up for doing that.
Anyone who watches Liverpool will tell you that the last four games the lad's not been at his best. He's not been at it, he's been jaded. The World Cup, coming after he did so well last season, took a lot out of him. Don't forget he's only a young lad, a baby. People will ask how a professional footballer can be tired when the season's just started, and they've only just started the season, but don't forget the pressure Raheem Sterling is under every game, to be one of Liverpool's best players when most lads his ages are still finding their feet in the reserves. It's a learning curve, and I think he's been very honest about how he's feeling.
People will also be looking at Brendan Rodgers and asking whether he's overplaying Sterling. But don't forget when Rodgers left him out against Villa, and we got beaten, people were saying he should have been playing! You can't blame Rodgers for what's happened. Sterling's been a stand-out player since he was 15, playing in the under-21 side, and I think he's developed nicely, so Rodgers must take a lot of credit. At the start of last season Sterling wasn't good, but Rodgers stuck with him. Other managers would have dropped him last year, and set him back. But the manager's belief in him has paid dividends.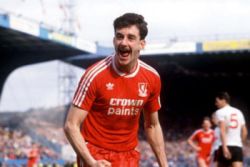 What hasn't helped is the form of some of the new signings; we've had to rely too much on Sterling and one or two other key players. Markovic simply hasn't come to the table. He's been very ordinary, poor really. But he's another young lad, and hopefully he'll come good. He's got tremendous potential, but he's moved to another country and things haven't quite happened yet. This is Liverpool, and there's huge attention. That's how it goes in football, some players come off straightaway when they move to a big club, but others take longer to adapt.
The signings from Southampton have found it difficult, but that's to be expected. Lovren was a really good player last season, but Liverpool aren't Southampton, and at the moment he's struggling. People forget that Liverpool and Manchester United appear on TV more than any other club in Europe, so players are always in the limelight. Every error is going to be pinpointed, and at the moment Lovren is struggling with that. Hopefully he'll get back to what he was doing at Southampton.
Balotelli's last chance
Adam Lallana's a class player who'll be very good for Liverpool when he gets fit, but Rickie Lambert is just trying too hard at the minute. As a Liverpool fan who played up front for the club myself, I know how it is – you try so hard. If the goal doesn't come early, the pressure just builds. Thankfully I scored in my first game and went on a run, and that makes it a lot easier. Ricky had a penalty saved in his first game, and the pressure's just piled up on him. At the moment he just needs one to cannon in off his shin, his backside, anything, for things to change.
Balotelli? Well, he's Balotelli isn't he? This guy is a completely different striker to anyone I've ever seen at Anfield. He's a a one-off, certainly a million miles from Ian Rush or myself! That's why he's gone so many places at a young age. I hope he becomes a crowd favourite, but this is his last chance. If he doesn't crack it here, he'll end up in Turkey or America. He's got the technical ability, but no-one knows whether he's got the mental ability.
When Sturridge gets back, hopefully we'll see him paired with Balotelli up front, the same formation Rodgers played when we ripped Tottenham apart. I don't think Balotelli is a good leader of the line; he needs someone up there to play with. I don't see Lambert as being that man, he's a squad player. I see Sturridge as ideal.
People have piled into Balotelli, like all the players we signed this summer, but you've got to remember that any player you sign for less than £20m is a gamble. Di Maria looks great for United, but that's genuine world class, and United had to pay £60m for that. Ronaldo, Messi, Suarez are in the same bracket – they're bankers, but you pay top dollar. Brendan's opted to sign slightly less high-profile players, and hopefully his gambles pay off.
John Aldridge has just launch myfacevalue.co, a site which allows sports fans to trade tickets "at face value". Membership of the service costs £1 a month, and you can find out more by clicking here.