Members of the Scottish parliament (MSPs) have reacted to the "devastating" news First Minister and leader of the SNP Alex Salmond has resigned following his campaign's defeat in the referendum.
Salmond, who had been leader of his party for 20 years, announced he is to step down in November after losing the historic poll to the pro-unionist Better Together group.
Salmond's "Yes" campaign failed to win the referendum for Scottish independence with 45% of the votes.
Speaking from Bute House, Salmond said it had been the "privilege of my life" to serve as Scotland's First Minister.
He added: "I am immensely proud of the campaign which Yes Scotland fought and of the 1.6 million voters who rallied to that cause by backing an independent Scotland.
"I am also proud of the 85% turnout in the referendum and the remarkable response of all of the people of Scotland who participated in this great constitutional debate and the manner in which they conducted themselves.
"We now have the opportunity to hold Westminster's feet to the fire on the 'vow' that they have made to devolve further meaningful power to Scotland. This places Scotland in a very strong position."
Salmond said he made the decision to stand down as he believed his party, parliament and Scotland would benefit from new leadership.
Deputy First Minister Nicola Sturgeon, the favourite to replace Salmond as leader of the SNP, said his achievements over the past 20 years are "second to none".
She said: "He led the SNP into government and has given our country a renewed self-confidence. Through policies such as the council tax freeze, free prescriptions and the scrapping of tuition fees, he has made a real difference for hundreds of thousands of Scots. And yesterday he inspired 1.6 million of our fellow citizens to vote "Yes" to independence.
Sturgeon added the gratitude she feels towards Salmond is "immeasurable".
"He has been my friend, mentor and colleague for more than 20 years", she added."Quite simply, I would not have been able to do what I have in politics without his constant advice, guidance and support through all these years."
Better Together campaign leader Alistair Darling also described Salmond as a "formidable political figure".
"He transformed the SNP into a party of government and delivered their referendum on independence which they had craved so long," he added.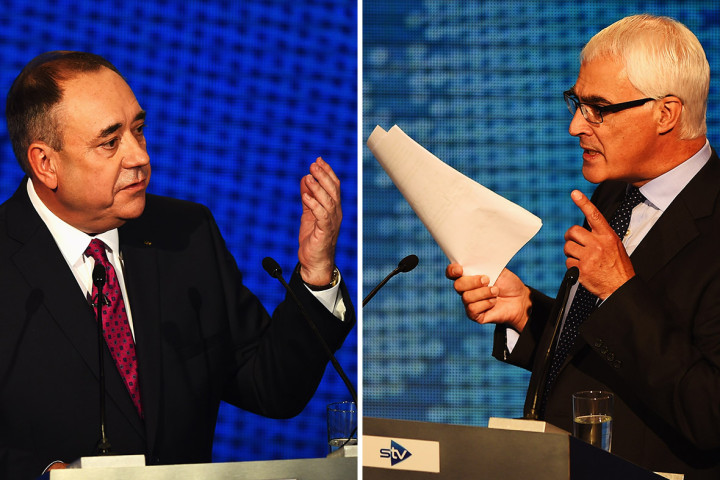 Scottish Conservative leader Ruth Davidson added: "No-one can dispute his political achievements, nor fail to acknowledge his political gifts.
She added: "I am pleased that the first minister says he will continue to serve in Scottish politics.
"Scotland will benefit from his experience and service as we move forward."
Several other MSP have also paid tributes to Salmond following his resignation via Twitter:
A total of 3.6 million people voted in the Scottish referendum, 1.6 million of which backed Salmond's "Yes" campaign. Of the 32 local authorities in the polls, four of them - West Dunbartonshire, Dundee, North Lanarkshire and Glasgow – gave Salmond the victory over Alistair Darling's Better Together group.
Despite losing, the "Yes" campaign has been praised for shaking up Westminster and forcing it to promise more powers for Holywood, with a draft legislation to be drafted in January.